Bright ideas: design experiments show the shape of things to come at Aram Gallery
The latest edition of 'Prototypes and Experiments' at The Aram Gallery shows the shapes of things to come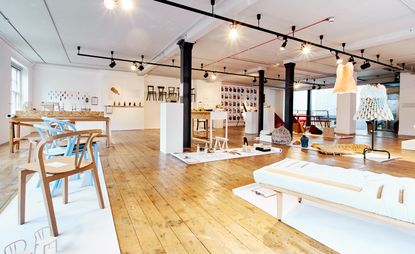 (Image credit: Josh Redman)
'The chair is a very difficult object. Everyone who has ever tried to make one knows that,' Mies van der Rohe commented in 1930. 'There are endless possibilities and many problems – the chair has to be light, it has to be strong, it has to be comfortable. It is almost easier to build a skyscraper than a chair.'

One can only imagine how many prototypes it took van der Rohe to arrive at his now-iconic 'Barcelona' chair; the design process can hold as much intrigue as the final product. This notion is precisely what a new exhibition at The Aram Gallery in London explores, tracing recent products from their inception their manifestation and renditions in between.

Since its inception in 2008, 'Prototypes and Experiments' has seen a broad range of designers and architects shed light on their development and creative process – previous exhibitors have included Ab Rogers, Ron Arad, Max Lamb and Nina Tolstrup. Curated by Riya Patel, the eighth and most recent instalment of 'Prototypes and Experiments' include works-in-progress by the likes of Mischer'Traxler, Carl Turner Architects, Carmody Groarke and more.

There's an eclectic mix of models, samples, tests and sketches plucked fresh from their studios. Local design studio Pinch is showing iterations of its 'Nim' table, launched in September at the London Design Festival, along with ephemera detailing the five phases of its development.

Nearby, maquettes from Carl Turner Architects' temporary installation 'Home from Home' uncover the idea of an idealised house form; Jule Waibel dabbles in her unique brand of design origami, transforming sheet materials into three-dimensional objects; and scale models from Carlos Ortega show us the research behind his cork chair.

Meanwhile, Mischer'Traxler reveal the trial and error behind the 'Reversed Volumes' project, which sought to make fruit bowl using fruit itself as the material. Several attempts with organic matter proved fruitless, which eventually resulted in a collection of bowls that are shaped by capturing the imprint of a fruit/vegetable. It's proof that failure breeds success.
INFORMATION
'Prototypes and Experiments VIII' runs until 30 January 2016. For more information visit The Aram Gallery website (opens in new tab)
ADDRESS
The Aram Gallery
110 Drury Lane
Covent Garden
London WC2B 5SG
View Google Maps (opens in new tab)