Opera house: Carmody Groarke create an aria in timber for Glyndebourne's summer seasons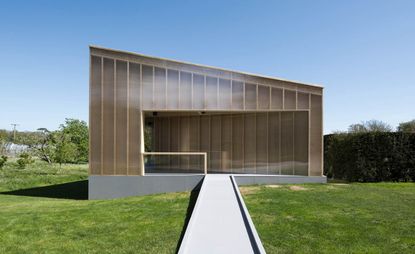 (Image credit: Luke Hayes)
The international appeal of artists represented by White Cube (opens in new tab) meant the gallery's expansion into São Paolo and Hong Kong was a given. Glyndebourne (opens in new tab), home of the summer opera festival and idyll for rosé picnics? Not so obvious. Nonetheless when Glyndebourne heir and chair Gus Christie sought to expand the programme into visual art, White Cube signed on for a three-year partnership.

Eighteen months later and the 2015 season is upon us, opening this week with 'Poliuto' by Donizetti in the opera house and artist Georg Baselitz at the new White Cube Glyndebourne, designed by London architects Carmody Groarke (opens in new tab).

It is not a pop-up, I'm advised, but a flexible temporary structure that will be disassembled in autumn (to dodge inclement weather and planning restrictions), then reassembled each spring through 2017. For the right blend of raw, contemporary style and compassion for the landscaping, Christie went to the go-to practice for show pavilions. David Chipperfield protégés Kevin Carmody and Andy Groarke had caught his eye with their temporary Studio East restaurant, built 35m above the London Olympics site, and three consecutive pavilions for the Frieze Art Fair.

The 10x8m not-quite-white cube sits on the natural promenade from the car park to the theatre - a robust, engineered-timber frame sheathed in layers of polycarbonate cladding recalling the Frieze quarters. Raised on a podium of railway sleepers, it allows deep sightlines through a break in the hedges from the front entrance and views to the lake from the back. Groarke, who attended the recent hanging of Baselitz's gilt-framed works, says he envisioned 'a building within a building', with a deep, canopied terrace and ramp providing 'an interstitial space, with no abrupt transition between inside and out'.

Originally it was squat and flat-roofed, but ultimately the architects lifted the roof and tipped it against the dip in the earth, 'as a gestural uplift to the hills beyond'. A uniform series of neon-tube lights climb the peak on the inside - a touch of White Cube pizzazz in a building that, says Groarke, 'doesn't pretend to blend in'.

Yet nor is it meant to be provocative - though visitors, asked to share their picnic space with this experimental new occupant - may have other thoughts.
ADDRESS
Glyndebourne
Lewes
East Sussex
BN8 5UU
VIEW GOOGLE MAPS (opens in new tab)