Annly Chyn: Chinese antiques in the 21st century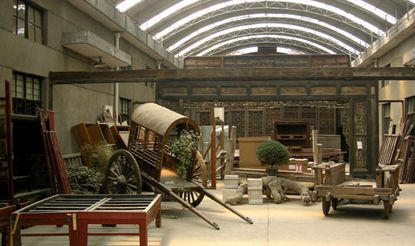 (Image credit: press)
Chinese contemporary design might still be in its infancy but the antiques market is all grown up and something of a beast by comparison. Anyone with even a cursory knowledge of home furnishings knows that a Ming vase is something you'd handle with quite a bit of care.
When we were in China we wanted to investigate further this home grown appreciation of all things antique and a small survey of our trusted advisors all led to the same conclusion, or rather lady – Annly Chyn. Before we knew it we were sat in the back of Annly's car being driven to her cavernous new residence (in a former tennis racket factory) in suburban Shanghai to see the doyenne's HQ.
See Annly's antiques empire in various states of wrapping as she prepares for her new cultural centre to open (opens in new tab)
Annly has amassed an antique collection of gargantuan proportions, from all corners of China, from as many periods as exist. It started when she moved back to Shanghai in 1996 after a spell in the States where she ran a dry cleaning business. She needed to furnish her new apartment and started by looking at the dusty piles of things for sale in the many local junk shops and markets.
With just a small amount of repair and a good polish she unearthed more than just a few things for her apartment. Barely years later she opened her first antiques showroom on Shanghai's WuZhong Road. By 2003, such was the demand of her local and increasingly international clientele she upgraded to a large warehouse off Zhongchun Road.
It's here that the third chapter of her success story is unfolding; the transformation of the 20,000 square feet of outbuildings that make up the former factory space into an incubus of traditional Chinese culture. In addition to her vast antiques showroom (and even bigger storage hall, where the furniture not on display is kept) Annly has created guest rooms, a restaurant, a spa area and various open spaces where everything from tea making to furniture repair, cookery to calligraphy will be taught.
When we visited it was days (or even a day) before her new venture – Annly's China' - was due to be unveiled and, though in places it seemed like it might need more than a few workmen and maybe a miracle instead just to get everything finished in time, she seemed confident that things would work out. Indeed she took the time out to tell us how she'd almost single-handedly steered the Chinese antiques market into the 21st Century…
How and when did you first start collecting antiques?
I started to collect in 1995 when I was traveling in China.
At what point did it occur to you that there might be a business in restoring them?


When more and more friends asked me to help them restore their old furniture and show them where to buy as well, I realized there was a very good potential for a business.
How has the market changed since you started?
The collector has changed from buying normal pieces to more valuable and expensive pieces. Good pieces are scarce and ever harder to find. As a result, they are also becoming more expensive. Labor is also more expensive. It is becoming a much more competitive market.
Do you sell to mainly Chinese collectors or foreigners?
Increasingly to foreigners as more people become aware of Chinese antique furniture.
Where do you source your antiques from?
I am always on the lookout for new pieces. In a country as large and complex as China, good pieces might be found anywhere, so you always need to be open to discovery.
What periods of furniture do you collect?
Most from middle Qin Dynasty to the end of Qin Dynasty, as well as some from the Ming Guo. Yes, my favorite furniture is from the Ming Dynasty.
Where are the craftsmen who restore them from and where are they based?
My craftsmen are mostly from the country side around the South East coast of China. They are amazingly gifted.
Do you train them or do they come from families who have retained the traditional craft skills?
I do train some of the workers, but some also come from families where there has been a long tradition of wood-working. They bring with them the traditional wisdom of several generations of furniture makers.
Roughly how many pieces do you think you have in your collection?
After years of searching and collecting I have amassed a collection of about ten thousand pieces.
Do you think the fascination with Chinese antique furniture is a starting point in building a contemporary design heritage for China?
Yes. Its started already, China's influence in music, art, literature, and living environments is spreading around the world. Works such as "Crouching Tiger, Hidden Dragon," is a good example of how Chinese ideas can win over admirers from many cultures. I believe that we will also see China's contemporary design heritage become a world treasure in the future. For many of my customers, introducing a piece of Chinese classical furniture into their homes is the very first step in journey of increased fascination for Asian culture. I often think of myself to be fortunate to be an ambassador of China's cultural heritage, by virtue of my furniture providing a first glimpse of Chinese culture for foreign customers.
You're about to open Annly's China as a retreat and school for visitors to learn about restoring antique furniture - can you tell us a little more about what you offer?
It's really broader then only antique furniture. Annly's China is a first introduction to the world of Chinese taste and sensibilities. There is a Chinese carpenter who teaches the student to make a small box as a memento of this experience; but, we also have a Chinese doctor who teaches traditional health and administers Chinese herbs and moxibustion. There is also a famous Chinese chef to help the participants cook their lunches each day, and instructors to teach Mandarin, Meditation, Tai Chi, Chinese tea ceremony, Chinese calligraphy, Chinese painting, and how to keep young and healthy in the Chinese way. In sum, this is a seven day program on Chinese physical and spiritual well-being, which includes both classes, application, and trips to the surrounding urban and rural locales.
Rosa Bertoli was born in Udine, Italy, and now lives in London. Since 2014, she has been the Design Editor of Wallpaper*, where she oversees design content for the print and online editions, as well as special editorial projects. Through her role at Wallpaper*, she has written extensively about all areas of design. Rosa has been speaker and moderator for various design talks and conferences including London Craft Week, Maison & Objet, The Italian Cultural Institute (London), Clippings, Zaha Hadid Design, Kartell and Frieze Art Fair. Rosa has been on judging panels for the Chart Architecture Award, the Dutch Design Awards and the DesignGuild Marks. She has written for numerous English and Italian language publications, and worked as a content and communication consultant for fashion and design brands.