Aldo Bakker offers meditative moments at New York solo show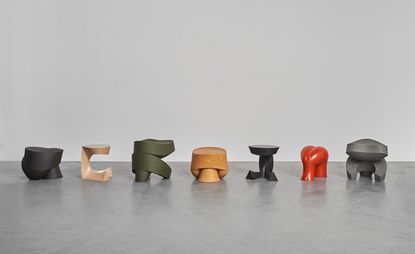 (Image credit: press)
Basking in the natural light of the Carpenters Workshop Gallery New York, 19 floors above the bustle of Fifth Avenue, lies Dutch artist and designer Aldo Bakker's contemplative new solo exhibition, 'Slow Motion'.

Aptly named, Bakker's first exhibition at the gallery is a thought-provoking collection of sculptural pieces derived from poetic reinterpretations of furniture. While differing in scale, form and materiality, they reveal the designer's urge for a slowed-down way of seeing. 'We called it "Slow Motion". We could've called it "Real Time",' Bakker reflects, and it is precisely this mindfulness – the journey it takes for the viewer to grasp the essence of Bakker's work – that makes the exhibition, on view until 22 June, particularly enticing.
The first piece to greet the eye is the glistening red stool 4prts, dressed in the designer's favoured material, Japanese Urushi lacquer. But the exhibition's main draw is the way the pieces interact with each other and with the habitat. A series of low rounded forms (two Sitting Tables, three Weight Wait stools and two 4prts) are dispersed throughout the space and balanced by a series of long monolithic pieces like the stone Console Table, the Urushi Green Table and the grey quartzite low bench Long Lasting, all of which add a welcome horizontality to the exhibition's dialogue.

But the ongoing conversation is mainly embodied in the relationship between the gold-plated silver pourer, Pivot, and the Urushi aluminium table, Flat Brown. Perched on a slanted shelf (Bakker's way of showing that the lid is 'hanging loose'), Pivot converses with Flat Brown. Both are set against the same warm yellow backdrop, both are supported by platforms of the same thickness, and Bakker mentions, 'it wasn't a long struggle' for both pieces. Typically he can spend over a year developing a piece, letting ideas brew in the back of his mind until the time is right for them to 'come through'.
'I mainly think about my pieces,' Bakker says, 'as long as I keep it in my mind, it stays flexible.' Incidentally, 'Slow Motion' is also a reflection of the lengthy, meditative process behind each piece. Bakker's partiality to Urushi (the application can take up to 30 layers, each left to dry for a day) is somewhat telling of his unhurried approach.

'Slow Motion' truly captures the designer's instinctive attitude and creative integrity. Ultimately, Bakker says, 'Let's think twice before we put something into the world.
For a full profile on Aldo Bakker and his shape-shifting designs, see the May 2019 issue of Wallpaper* (W*242), on newsstands now
INFORMATION
'Slow Motion by Aldo Bakker' is on view at Carpenters Workshop Gallery until 22 June. For more information, visit the website (opens in new tab)
ADDRESS
693 5th Ave
New York
NY 10022
VIEW GOOGLE MAPS (opens in new tab)