ABCDCS: a new tome by David Collins Studio charts its remarkable interiors from A to Z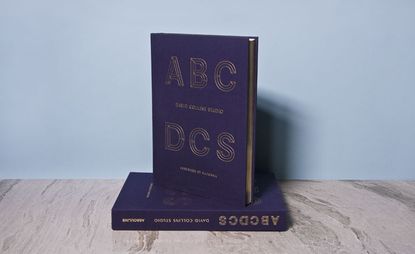 (Image credit: TBC)
David Collins' interiors might have photographed well - extremely well, in fact - but they were always more impressive when you were in them. Of course they had glamour and drama but they also worked beautifully; there was a 360-degree balance and a rhythm no picture can really capture. Still, the new 232-page monograph ABCDCS is a very welcome tribute to the designer's 28-years of creating remarkable spaces.

Published by Assouline (opens in new tab), the book is very much a David Collins Studio project and is something, as the studio's communications director David Kendall says, Collins was 'obsessed with'. 'It really developed out of a 56-page book we prepared for a project we were working on in Bangkok in 2009,' explains Kendall. 'We had a letter from the alphabet for each single image. David was really keen that we expand it and self-publish it as a book.'

Kendall gathered Collins' thoughts on an A to Z of design key words, and images of projects were gathered to illustrate them. 'It was great because he was such a good writer. And we worked on it for a couple of years with the designer [and Acne Paper editor] Duncan Campbell and by last summer it was pretty much ready.'

Last summer of course Collins passed away unexpectedly, but his team decided they had to complete the project. 'The thing is, it's not just a portfolio,' says Kendall. 'It's a real insight into his thinking.'

A year after Collins' death, the studio that still carries his name is as busy as ever with Simon Rawlings taking the lead as creative director. 'David always emphasized continuity,' Rawlings says, 'and I have been here for 17 years so I've seen it all.' He continues: 'The studio has the confidence of our current clients and we are bringing in new clients. The house style is not a design style, it's a feeling. It's about details and materials and the use of artisans and making a space work properly. And that's what we continue to deliver.'
See the quartet at the helm of David Collins Studio today, and their forthcoming and recently completed projects

A new Alexander McQueen flagship store in Tokyo has just opened, the first of a wave of summer openings for the studio. A new three-storey Jimmy Choo store opens on London's Bond Street in August, following the opening of a DCS-designed store in Beverly Hills in April. The Continental, the first Rowley Leigh restaurant to open outside of the UK, also debuts in August at the Thomas Heatherwick-designed Pacific Place building in Hong Kong, as does Harrods Shoe Heaven, part of a £200m revamp of the Knightsbridge store. A new bar within the men's department at Bergdorf Goodman is set to open in September.

Longer term projects include The Charles, a new 32-storey residential building (opens in new tab) on Manhattan's Upper East Side with apartments and public spaces by DCS and set to open in November 2014. The studio is also working on a revamp of the Windsor Hotel in Melbourne; a Kengo Kuma-designed country club and villa complex in Thailand; and Ole Scheeren's mixed-used MahaNakhon building in Bangkok (opens in new tab), all scheduled to open or re-open in 2016.