Kent & Curwen's new David Collins Studio-designed flagship on Savile Row declares the brand's ambition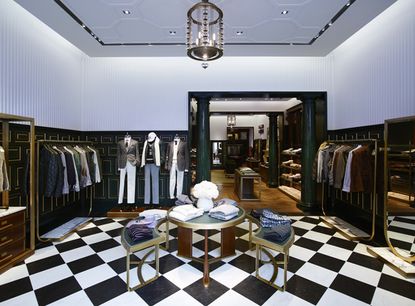 (Image credit: Richard Powers, David Collins )
Opening a spanking new David Collins-designed store at 2 Savile Row is quite a declaration of intent; especially for a brand that, despite a storied history and royal ties, most locals are blissfully ignorant of. And while the new Kent & Curwen flagship is dwarfed by the monster debut J Crew outlet, opening on Friday around the corner on Regent Street, it is similar evidence of empire building, if going in different directions.

The 1,600 ft store was one of David Collins' last projects (opens in new tab) and is another expert act of resuscitation, retail theatre and story-telling. Green leather panelling, black and white checkered marble, a Portland stone fireplace, bespoke brass fixtures and cream plaster scalloped curvature summon up a brand of a particular place and time, though very much back in business.

Eric Kent and Dorothy Curwen joined forces in 1926 and quickly became the tie maker of choice for the British elite, providing neckwear to Oxford and Cambridge universities, British army regiments as well as many leading public schools, including Eton and St Paul's. It quickly added cricket sweaters to the mix, becoming the first choice supplier to top clubs and national teams. It also dressed the Hollywood Cricket Club whose members included Basil Rathbone, Boris Karloff, Cary Grant, Laurence Olivier, PG Wodehouse, Douglas Fairbanks Jr, Errol Flynn (renowned for his impressive middle stump) and David Niven.

In 1982 it was bought by the Japanese Renown group who, having spotted its potential as a heritage act, smartly went about developing the brand in Asia. In 2008 it was bought by Hong Kong-based Li & Fung (opens in new tab) who continued the push.

Kent & Curwen now has 141 stores in 63 cities across China, Hong Kong and Taiwan as well as 23 in Japan. But while Renown and then Trinity (Li & Fung's menswear arm) have made a very serious go of Kent & Curwen in Asia, the brand was left to wither on home turf. Even patronage by Princess Diana in the early 1990s couldn't reverse this domestic decline.

Now an operation called British Heritage Brands, a new venture involving Li & Fung USA, Tommy Hilfiger, and others, has taken on the license for Kent & Curwen in the Western hemisphere, intent on establishing the brand as a serious player in the UK and the US. BHB's president is Craig Reynolds. And it was Reynolds who suggested Collins was the man to work wonders on what had been an odd set of units at the back of the Gieves & Hawkes store at 1 Savile Row (Trinity bought Gieves & Hawkes last year, making the two brands stablemates). 'A friend of mine introduced me to David long before all this came about,' he says. 'But I had always watched what he had done and thought he would be a great person to create a modern take on the gentleman's haberdashery,' says Reynolds.

David Collins Studio has also worked on the design of a store on Madison Avenue in New York, which opens next February. As Reynolds says, these stores are not only the frontline of a fresh push into the UK and the US, they are also draws and symbolic markers for the newly mobile Chinese consumer.

'[Trinity] recognise that this is a heritage brand and they have a really significant business with it in China. But as the Chinese consumer travels more and more, you need a store in London, as well as places like New York, to give it a validity; to say that this is not a local brand or made up brand. And of course, as more and more brands come into the Chinese market, there is more competition too. It made sense for the brand to expand the other way.'

The store carries the first collection of the new western wing of Kent & Curwen. Designed by Michael Sondag, the emphasis, Reynolds says, is on matching casual wear and tailoring, sitting somewhere between Dunhill and Gant Rugger. 'We are finding, especially in the States, that men are breaking up their suit. So this seems like an appropriate thing to do. A number of Italian brands have done that very successfully but not many British brands.'

The collection is backed by a new ad campaign featuring England cricketers Alistair Cook and Nick Compton (opens in new tab). Reynolds admits that name recognition of the players is somewhat limited in the US. 'People don't really know them there. But they are two really handsome men who could be models anyway. And the overall campaign idea is gentlemen and sport. So that could be cricket, or sailing or tennis. I think the US customer relates to them in that way.'

The Chinese parent company are so impressed with the new line that they are carrying it in the Asian stores, tagged as the Heritage collection and sold in distinct areas. Sondag though has already moved on and in September, highly rated British designer Simon Spurr was appointed creative director of the brand. Spurr's first collection will be autumn/winter 2014.

'Simon has been brought on to build and modernise the customer base,' says Reynolds. 'So the collection will be a little more modern, not edgy by any means but we can probably push the needle a little more.' The current collection is also available in Nordstrom and Bloomingdales in the US and Harrods in the UK and Reynolds says BHB will probably add two more Kent & Curwen stores on the East Coast in the US and is also looking at other stores in the UK.

ADDRESS
2 Savile Row
London
VIEW GOOGLE MAPS (opens in new tab)