Kengo Kuma on the cultural perspectives of Japanese furniture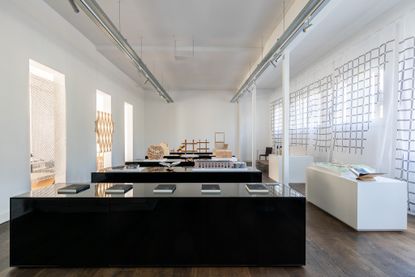 (Image credit: Ayako Nishibori)
In contrast to Western culture, furniture does not have much of a presence in traditional Japanese architecture and is extremely understated. At a recent exhibition jointly curated by Kengo Kuma and his long-term collaborator Time & Style, held in the manufacturer's Amsterdam showroom, the architect explains, 'The transparent nature of traditional Japanese architecture avoids heavy walls and uses slim pillars to support roofs, under which is an open-plan space. Paper-covered sliding windows called shoji act as walls, and even then these are often left open. Similarly, thin sliding doors divide interior spaces.'

Bringing large objects into such spaces would destroy the ambience and also the natural ventilation. From a cultural perspective, the Japanese traditionally sit directly on a tatami (a type of mat used as a flooring material) or on thin cushions called zabuton, and dine on small, low, single-person, tray-like tables called meimeizen. So 'chair' and 'table' in the conventional Western sense are not necessary to begin with and instead the Japanese opt for sophisticated, minimalist – and small-scale – furniture.
The conversation between Kuma and Time & Style began ten years ago, when the architect was designing the Nezu Museum in Minato City in Tokyo. 'It surprised me that such a garden still existed in the very centre of the metropolis. So, the point was how to create a museum that would do justice to the lush greenery. My intention was to make the building and its furniture as light as a breeze, where people could feel the nature from the inside,' recalls Kuma. The resulting NC chair illustrates the simplest form a chair could have – the backrest of the thin, flat seat has a graceful curve and the inside of the four thin legs are chamfered to accentuate the chair's softness. The structural challenges of such delicate fabric were overcome by the artisans using Japanese traditional joinery techniques that build strength within the material.

The design of the GC Prostho Museum and Research Center in Aichi Prefecture was inspired by cidori, an old Japanese toy made of wooden sticks, and built with 6,000 pieces of cypress wood using joinery skills to create a space encased in three-dimensional wooden open grids. The accompanying stackable wooden GC chair follows the same philosophy of lightweight design with just one crest rail. 'I want my design to be light and delicate. Such elegant pieces are content to play a supporting role and never attempt to steal the spotlight. The starring roles are performed by our human bodies or by the food or drinks we place on the table. To respect and complement these living entities, furniture should be as understated as possible,' says Kuma.
The FU sofa is a contemporary manifestation of the traditional zabuton. 'A conventional sofa is usually made of a box-shaped base covered in fabric. This gives it an unnatural volume compared to zabuton. Since my childhood, I've had zabuton cushions that could support the entire body with their softness and I wanted to bring that sensitivity into contemporary furniture,' he adds. The same thinking is evident in the MA sofa, in the shape of a rolled-up shikibuton (Japanese traditional mattress) that was originally designed for the private villa owned by the Whitestone Gallery, which sits on slope in a forest overlooking Mount Asama in Nagano. 'If we start to be particular about a zabuton, we need to consider the hardness of the inner cushion and variations in the fabrics for each season. However, I felt that the most important part was the stitching on the edge in the same way as we choose our clothing.'

Kuma's continuous exploration and reinterpretation of traditional lifestyle, values and craftsmanship pave the way for contemporary Japanese furniture to be appreciated internationally. 'My objective is to design modern furniture as an extension of the innovations in traditional Japanese furniture that have been honed over the centuries. I believe that people today need furniture of this nature and modern transparent spaces.'
INFORMATION
ADDRESS
Marnixstraat 148, 1016 TE Amsterdam, Netherlands
Yoko Choy is the China editor at Wallpaper* magazine, where she has contributed for over a decade. Her work has also been featured in numerous Chinese and international publications. As a creative and communications consultant, Yoko has worked with renowned institutions such as Art Basel and Beijing Design Week, as well as brands such as Hermès and Assouline. With dual bases in Hong Kong and Amsterdam, Yoko is an active participant in design awards judging panels and conferences, where she shares her mission of promoting cross-cultural exchange and translating insights from both the Eastern and Western worlds into a common creative language. Yoko is currently working on several exciting projects, including a sustainable lifestyle concept and a book on Chinese contemporary design.