Simone Brewster evokes a forest of cork oak trees in central London
For London Design Festival 2023, Simone Brewster presents 'Spirit of Place' on The Strand in collaboration with Amorim cork, intended to 'capture the essence of the forest'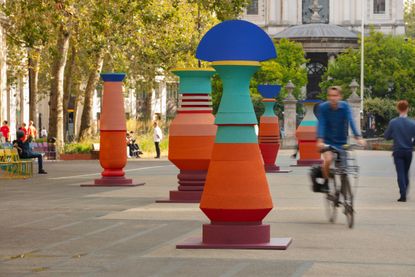 (Image credit: Ed Reeve)
Wallpaper* Newsletter
Receive our daily digest of inspiration, escapism and design stories from around the world direct to your inbox
Thank you for signing up to Wallpaper. You will receive a verification email shortly.
There was a problem. Please refresh the page and try again.
A group of large, totemic cork vessels has arrived in central London this September, marking out a bold presence on The Strand. Created by designer Simone Brewster, the outdoor public installation – titled 'Spirit of Place' – has been commissioned for London Design Festival 2023 (16–24 September), situated on a recently pedestrianised section of the historic West End street.
Simone Brewster: 'Spirit of Place'
Together, the five sculptural vessels are intended to evoke a forest of cork oak trees in Portugal. The forest, at Herdade de Rio Frio, is managed by Portuguese cork manufacturer Amorim, which collaborated with Brewster on the project. 'It was amazing, and so beautiful,' says Brewster of the forest, which she visited during a run of mild, blue-skied days in February 2023.
The project is directly inspired by the place. 'I wanted to capture the essence of what's going on in the forest,' says Brewster. The column-like vessels, 2.6m high, recall the presence of sturdy oaks. 'Historically, the idea of columns is based on trees,' says Brewster. Meanwhile, the palette of colours, painted on, references those she experienced on her visit.
Brewster was also inspired by the notions of resilience and regeneration that underpin the forest and how it's managed. As our climate changes, Amorim is encouraging strains of trees to grow that are more resilient to drought, and their approach to harvesting the cork – for wine stoppers or any other use – is a waste-free, regenerative one. 'Everything gets reused,' says Brewster, mentioning in particular the cork dust which is used as biomass to power machinery in the factory.
The cork composite Brewster has utilised for 'Spirit of Place' is the result of stripping the bark of the trees – a process that boosts growth and carbon capture, but is nevertheless slow: it can only happen every eight years. 'It's almost counterculture,' says Brewster, contrasting the approach with the contemporary pressures for fast-paced design and production. 'When you're dealing with nature in a respectful and understanding way, you can't push that [process], because you're just going to end up damaging your resource.'
After the bark has been stripped, it is steamed, chipped and then heated, so that the natural resin in the cork bonds the chips together. It is this material that is compressed and cut into shapes, and which makes up the vessels of 'Spirit of Place'.
This is the largest-scale project Brewster has worked on to date, blending her architectural training with her skill in crafting beautiful design objects. The totemic design recalls her 'Tropical Noire' (2014) vessels, continuing a practice of deeply sculptural expression that has also been on show at Brewster's solo exhibition 'The Shape of Things' at London's NOW Gallery.
Brewster calls 'Spirit of Place' a 'family of objects' to engage with, and is glad that their location in a pedestrianised zone will enable people to walk around them. Although only installed on The Strand for the duration of LDF, Brewster is already in discussions to hopefully find a new outdoor home for the project, whether that's in another urban space – or a forest.
'Spirit of Place' by Simone Brewster in collaboration with Amorim is on view on The Strand until 24 September 2023
simonebrewster.co.uk
londondesignfestival.com
Receive our daily digest of inspiration, escapism and design stories from around the world direct to your inbox