Roman-inspired 'Ottavia' chair by Cristina Celestino for Fendi Casa makes its debut
'Ottavia' chair by Cristina Celestino for Fendi Casa is among our Salone del Mobile 2023 highlights, featured in May Wallpaper*, on sale 13 April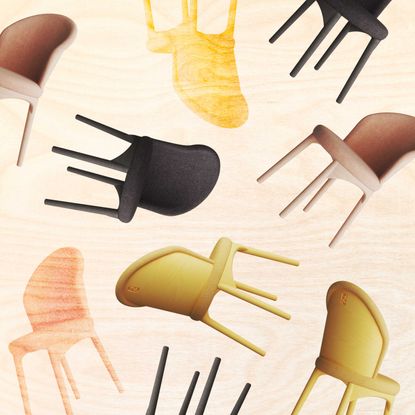 (Image credit: Courtesy Fendi Casa)
Discover the Wallpaper* guide to Salone del Mobile 2023 and Milan Design Week
A longtime collaborator with Fendi Casa, Italian designer Cristina Celestino has been creating striking additions to the Italian homeware brand's portfolio since 2016, when she created her Happy Room at Fendi for Design Miami.
Launched at Milan Design Week 2023, her latest design for the house is the 'Ottavia' chair, taking inspiration from the Roman landscape and offering a link with the city's streets, monuments, architecture and palette.
Echoing the arches of Rome, one of the city's quintessential architectural features, as well as being emblematic of Fendi's landmark HQ, the Palazzo della Civiltà Italiana – a six-storey travertine-clad cube punctuated by 216 arches – her chair design features a rounded back that offers snugness and sophistication in equal measure. Available in yellow micro bouclé, pink velvet or grey bouclé, and made using a stained wood to highlight the grain, the chair pays a fittingly modern tribute to Fendi's heritage.
Fendi Casa, Piazza della Scala, Milan
fendicasa.com
cristinacelestino.com
See the May 2023 issue of Wallpaper*, on sale 13 April, for more Salone del Mobile previews. Wallpaper* is available in print, on the Wallpaper* app on Apple iOS, and to subscribers of Apple News +. Subscribe to Wallpaper* today