Oakywood's minimalist home workspace is customisable to your needs
Polish company Oakywood embraces craft, natural materials and technology to offer the minimalist, customisable workspace you need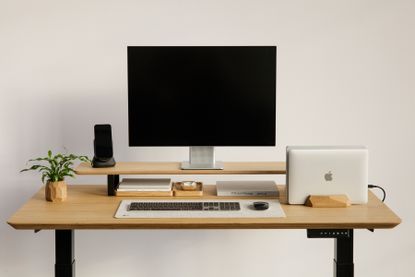 (Image credit: Courtesy Oakywood)
In partnership with Oakywood (opens in new tab)
Oakywood is a brand conceived out of an appreciation for wood and technology. Company founder Mateusz Haberny and his team in Ciche, at the foot of Poland's Tatra Mountains, reinvent the home office environment with simple, elegant, ergonomic and innovative furniture and accessories that redefine the desktop, turning work into a pleasure.
The customisable Oakywood workspace
The company's latest product innovation is the Oakywood 3D Configurator, a tool enabling customers to customise a workspace to suit their needs. The tool provides a realistic view of a desk and desk-shelf in 3D, allowing the user to make adjustments and choices in terms of measurements and finishes. First introduced by the brand at the end of 2022, the 3D Configurator can now be adapted for the customisation of other products, such as the best-selling desk mats.
'Ever since we started, Oakywood has been successfully combining modern design with peak functionality – these are the key features which make [our] products comfortable, ergonomic, and tailored to individual needs,' says Haberny. 'The 3D Configurator is another step towards creating a more functional and effective home office.'
Minimalist desks and workstations in durable wood
Made using materials from responsible and sustainable sources, Oakywood's range includes standing or sitting desks and workstations, computer stands, laptop chargers and storage, pen tidies, headphone stands, wireless docking stations – all designed, prototyped and manufactured using modern digital processes, and machined and handcrafted from wood, felt, cork and wool.
Oakywood's aesthetic nods to the so-called Japandi style, fusing the modernist, clean lines of Scandinavian design with Japanese minimalism. A sense of order and simplicity make for a more comfortable, organised and efficient working space.
'We design and create unique wood products – accessories that complement technology and work at the desk,' says Haberny. 'We create out of love for wood and nature, using materials from responsible sources. We want everyone to be surrounded by durable and functional products.'
For more information visit oakywood.shop (opens in new tab)