Massimiliano Locatelli Editions launches as the architect's latest adventure in design
Massimiliano Locatelli Editions mixes materials, craftsmanship and influences as the new furniture brand by Massimiliano Locatelli and Locatelli Partners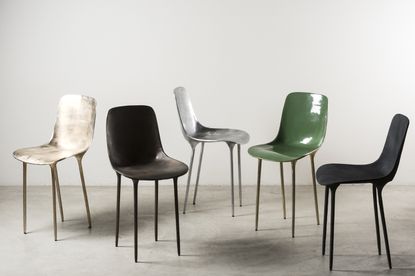 (Image credit: Courtesy Massimiliano Locatelli)
Wallpaper* Newsletter
Receive our daily digest of inspiration, escapism and design stories from around the world direct to your inbox
Thank you for signing up to Wallpaper. You will receive a verification email shortly.
There was a problem. Please refresh the page and try again.
Massimiliano Locatelli Editions is the latest venture by Milan-based architect and designer Massimiliano Locatelli, in collaboration with Locatelli Partners architecture studio. The groundbreaking new brand showcases a remarkable collection of furniture pieces born from years of expertise and tailormade craftsmanship.
Massimiliano Locatelli Editions: contemporary domestic vision combined with tradition
'Today, I have decided to gather the entire range of these design objects into a single brand, Massimiliano Locatelli Editions,' states Locatelli. 'A collection destined to evolve with the addition of new pieces, always united by a shared philosophy where a contemporary vision of domestic space and living combines with inspiration from tradition.'
The editions are an organic evolution, emerging from the demands and inspirations of specific projects, eventually taking on a life of their own. They embody the belief that furniture should serve a purpose within a broader context, seamlessly integrating into the surrounding environment.
'Perhaps the most significant example is the first table in the "Lakes" series: "West Lake",' Locatelli explains. 'Designed for the penthouse of a Vietnamese princess overlooking the largest freshwater lake in Hanoi. The vision was to "bring the lake into the home", to recreate the memory of a form that belongs deeply to the client.'
Meticulously crafted, Massimiliano Locatelli Editions emanate an unmistakable artistic essence as well as an architectural touch: the selection of materials assumes a paramount significance, with each chosen for its intrinsic beauty or its relevance to architectural principles.
From the elegance of Carrara marble and the sleekness of titanium finishes to the exquisite craftsmanship of Murano blown glass and the opulence of 24ct gold accents, every element converges to create functional masterpieces that intend to captivate the senses, aiming for that special balance where art and functionality intertwine.
With its exceptional craftsmanship and unwavering commitment to innovation that has always characterized his work, this remarkable new adventure by Locatelli invites us to reimagine the boundaries of furniture, embracing a world where beauty and utility coexist harmoniously.
Receive our daily digest of inspiration, escapism and design stories from around the world direct to your inbox
Maria Cristina Didero is an independent design curator, consultant and author, who has contributed to many publications over the years; she is currently Milan editor of Wallpaper* . Didero has consulted for companies such as Vitra, Fritz Hansen, Lexus, Fendi, Louis Vuitton, Valextra among others. Based in Milan, she works internationally, curating exhibitions for institutions: some of her most recent projects include Nendo: The Space in Between and The Conversation Show at the Holon Design Museum, Israel; FUN HOUSE by Snarkitecture at National Building Museum, Washington D.C.; SuperDesign a project about Italian radical design, NY; Vegan Design, or the Art of Reduction by Erez Nevi and The Fish and The Crowd by Carlo Massoud, Milan. In April 2022 she curated a Mathieu Lehanneur exhibition at the Triennale in Milan called The Inventory of Life, while in July she debuted a project at the MK&G in Hamburg titled Ask Me if I Believe in the Future, alongside a series of ongoing collaborations. She was appointed 2022 Curatorial Director of Design Miami/. She is currently preparing two projects for Milan Design Week 2023.