'Angle of Repose' at Jacqueline Sullivan Gallery is a cabinet of design curiosities past and present
The exhibition at New York's Jacqueline Sullivan Gallery (until 27 January 2024) includes silver cutlery inlaid with gemstones, Victorian papier-mâché chairs, and Otto Zapf shelving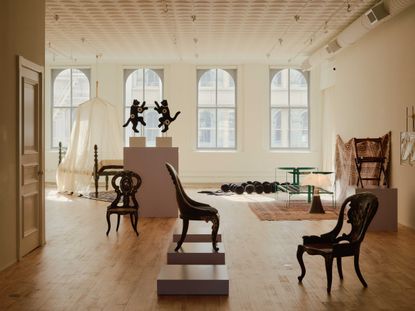 (Image credit: Jess Laird)
'Angle of Repose', the latest exhibition at Jacqueline Sullivan Gallery (on view until 27 January 2024 ) is filled with ravishing objects that invite intense focus.
The longer you linger, the more details and surface texture are revealed: there's a row of ornate, black-stained Victorian papier-mâché chairs adorned with gilded botanical patterns and mother-of-pearl marquetry that glitter as they catch the light, a series of hand-blown glass vessels in a gradient of mossy to emerald green, and a set of sterling silver cutlery with thin floral handles inlaid with droplet-size garnets. In the far corner, a gauzy wool net envelops a four-poster bed from the 19th century, weighed down by paving stones wrapped in embroidered silk handkerchiefs.
'Angle of Repose' at Jacqueline Sullivan Gallery
The exhibition, which is open through 27 January 2024, is the gallery's second collection of contemporary and antique design inspired by literary history. 'Angle of Repose' borrows its name from a 1971 Wallace Stegner novel about multiple generations of a family longing for connection and fighting to survive. It's also an engineering term for the steepest point at which a loose material stays put. Both meanings are about limits and the brink of instability.
Sullivan was drawn to the poetry of the phrase and invited four artists – Isa Toledo, Conie Vallese, Elliott Camarra, and Valentina Cameranesi-Sgroi – to interpret it. She also worked with antique sourcer Abel Sloane to find historical objects that speak to the theme. 'This notion of repose, the idea of a material "reaching its limit", is endlessly fascinating,' Sullivan said in a news release. 'How far can we push an idea or a material in a way where the result teeters on absurdity or doesn't make sense?'
Sullivan's abstract prompt results in a collection of peculiar, delicate, and obscure things. To wit: Cameranesi-Sgroi's undulating borosilicate glass sculptures seem like they're molten and could slump down at any moment. The veneer on a cabinet Ettore Sottsass designed for an Esprit store in 1987 has a dizzying burl pattern that could be an op-art painting topographic map.
Often, the works on view are dream-like, such as Otto Zapf's Softline shelves, which are upholstered in glossy, pillowy plastic and Elliott Camara's Oldenburg-esque soft sculpture of oversized grapes stitched from black velvet fabric remnants and ribbon. On their own, the objects are delightful to see but the exhibition's greatest pleasure is experiencing so many unexpected juxtapositions of scale, materials, styles, and forms.
'Angle of Repose' is on view at Jacqueline Sullivan Gallery until 27 January 2024
52 Walker Street
4th Floor
New York
New York 10013
Receive our daily digest of inspiration, escapism and design stories from around the world direct to your inbox
Diana Budds is an independent design journalist based in New York