Nilufar's design takeover of Venice's Giovanni Nicelli airport
At Venice's Giovanni Nicelli airport, Nina Yashar of Milanese design gallery Nilufar presents 'The Ever-Present Future of Design' (until end of 2023), combining historic and contemporary pieces from different countries and disciplines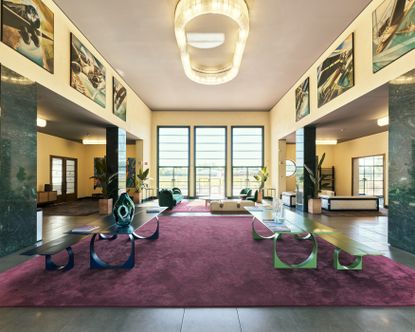 (Image credit: Andrea Pugiotto)
As the doors of the 18th International Architecture Biennale opened to the public last week (20 May 2023), so too did the halls of the Giovanni Nicelli Private Airport. For the second year, renowned tastemaker Nina Yashar is curating an exhibition of scenographies via her gallery, Nilufar, at the elegant 1920s building situated on the Lido, a barrier island a short water taxi from Venice.
'The ever-present future of design': Nilufar at Giovanni Nicelli airport
The goal for Yashar's exhibition, named 'The Ever-Present Future of Design', is to highlight the connections and exchanges between notable historic and contemporary pieces from different countries and disciplines, in the context of collectible design today.
'The important thing for me was to push the boundaries on a meaningful dialogue between design with disparate provenance, bridging cultures and overcoming borders,' explains Yashar. 'And what better place to do this if not an airport?'
Set across the arrivals and departures hall, the journey begins with a varied showcase of pieces from design luminaries, including several editions by Italian sculptor Pietro Consagra, a pair of armchairs designed by Paolo Buffa (1950), Carlo Scarpa's 'Cornaro' sofa and armchair models (1973), alongside wall lamps from Gio Ponti. Other highlights include a Brazilian rosewood cabinet with woven straw door fronts by Martin Eisler and Carlo Hauner (1960), sofas from Joaquim Tenreiro (1958) and Edward J Wormley (1950), and an 'LB10' modular bookcase by Franco Albini (1958).
The strength of the exhibit is not just in Yashar's control of form and material to create a coherent yet impactful setting, but in her mixing of unexpected combinations, which work well in the unique context of the airport.
Alongside vintage Gio Ponti sit upholstered pieces by Lebanese multidisciplinary designer Khaled El Mays, atop rugs designed by Martino Gamper. With organic forms and narrative flourishes, three pieces from El Mays' 'Flora' seating series (2019) take a central position in the hall, together with his 'Nomad' bench and a brass and wicker low table from the designer's 'Palmea' collection (2018).
Closest to the hall's light-filled entrance, Yashar has included two sets of 'Libra' tables and benches by Atelier Lavit (2023). Originally conceived as outdoor furniture pieces, their profiled steel tops are reminiscent of wings, balancing on sculptural hoop bases.
The jewel-toned colour palette is continued with clusters of Draga & Aurel's 'Jade' coffee tables (2022) in brass and resin, together with hand-blown glass vases by Domitilla Harding (2018). A curious and sculptural 'Guise' table lamp (2020) by Dutch studio Odd Matter, is placed on a structuralist table (2020) by Berlin-based designer Lukas Wegwerth.
The new exhibition reinforces the airport's role as a hub in promoting culture and arts on the Lido of Venice. Nilufar collaborated closely with the venue's director and its head of cultural and artistic direction, Laura Alfieri on the project.
'Giovanni Nicelli Private Airport is permeated by magic: it reminds us of all the richness travelling offers and of the beauty that crossing borders can bring,' explains Yashar. 'You almost lose the dimension of time when entering the space. My desire was to showcase pieces that have and still define today the future of collectible design.'
'The ever-present future of design' by Nilufar at Giovanni Nicelli airport is on view until late 2023
Giovanni Nicelli Private Airport
Via R. Morandi, 9
30126 Venice
Timothy Anscombe-Bell runs Sustainable Design Collective (SDC), a Los Angeles based design resource and consultancy, bringing together some of the brightest in modern craft-based manufacturing. He works on healthy, sustainable and green building schemes – from offices, cultural institutions, schools and universities, to hotels, restaurants and specialist retail. @sdc_inc