Highlights from Design Week Lagos 2023
Design Week Lagos 2023 (19-22 October) showcased Nigerian creativity and ideas at Lekki's Livespot Entertarium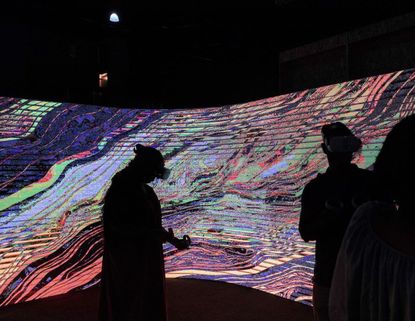 (Image credit: Courtesy Design Week Lagos)
In what would be regarded as the fair's fourth edition, Design Week Lagos 2023 held its four-day event (19-22 October 2023) at the Livespot Entertarium in the middle of Lekki. If there were two words to describe this year's fair, it would be 'innovative showstopper'. The event was themed 'African design, the future' and curated by Nigerian architect and designer Charles O Job.
The event connected design creatives and enthusiasts, but witnessing the breadth of new innovations that had happened this year was a breath of fresh air. Individual inspirations made a shift this year, they were unusual and rare; it felt like every designer wanted to take the risk to actualise newer versions of their creativity – and it worked.
Highlights from Design Week Lagos 2023
---
Turmi Lamps by Zarah Yunusa at Munstone Studio
Designer Zarah Yunusa exhibited her Turmi Lamps. Heavily inspired by culture, the lamps take the design interpretation of 'turmi da tabarya', meaning mortar and pestle in Yunusa's tribal language. 'I created the Turmi Lamps in an effort to bridge the gap between traditionalism and universal relatability,' she said. 'The simplicity of the lamp patterns symbolises that they can be categorized as modern.' The V-shaped lamps were made in lean ropes from cotton yarns, with a pattern synonymous with clothes worn by the Fulani tribe in Nigeria. Though very firm, the feel of it seems so soft, like threads in a wool-wrap handwoven simultaneously.
Yabasi Lamp by Josh Egesi at Ike Studios
Biomorphism inspired a few of the designs exhibited this year; one of them was the Yabasi Lam which reimagined the conceptual action of sprouting ('yabasi' being the Igbo word for onion). Designer Josh Egesi has always looked into his culture to explore themes and concepts which weren't clear to his younger self. The sprouting of onions seemed to be his newly-found interest and to unravel that curiosity through design, he took a bold step in creating a 34x7 cm lamp made from glass, wood and metal materials in a variety of colours.
Design Week Lagos Panel Talks
One of the biggest highlights of Design Week Lagos 2023 was the panel talks (as a matter of fact, there would be no Design Week Lagos without them). Attended by the industry's finest – among them scholars, students, and enthusiasts – the talks this year ushered in refreshing perspectives, from major conversations about local markets, manufacturing, and business analysis to one of the most intriguing conversations to surface in 2023, AI. Alongside, architect Tosin Oshinowo delivered a lecture titled "An Alternative Urbanism" that spotlighted new ventures to development and innovations, especially within countries in the global south.
"Culture piece", "Pompell" and "Ocean piece" by Iris Skafos
For a design studio that began in 2022, Iris Skafos seems to possess a design concept that is incredibly sensual in gaze. Their exhibition featured a set of three wooden coffee tables titled 'Culture Piece', 'Pompell' and 'Ocean Piece'. The designs were dedicated to their new-found obsessions with bodies of water and the enriched nature of their 'African-ness'". Made from cedar wood, metal, fabrics and epoxy resin, the coffee table possessed wide dimensions with a well-detailed graphic slab, colourful composition and contemporary craftsmanship.
Wearables by Belonwus, presented by Sporting Lagos
Design meets sport, meet fashion – a must-see installation at Design Week Lagos was a project by Belownus for Sporting Lagos which featured several football wearables. Sporting Lagos had wanted to create something that could be relatable to viewers, so they thought of recreating what they know best, working around a football and how it could be melded with design. 'We wanted to build a thriving community around the beloved sport of football – something cherished by countless individuals. Viewing football as more than a game is very much the path that converges our trajectories, bridging differences seamlessly,' they said.
VR and photo experience by Slickcity
Tech was also present at this year's event, and who else was a better fit to offer that experience other than content creators' studio Slickcity? Late last year, the artist Malik Afegbua went viral for his tech-generated art, featuring older Black models on the fashion runway wearing indigenous Nigerian outfits. Gaining more than a million views, the art caught the attention of CNN, BBC, and many other media platforms. At Design Week Lagos 2023, Afegbua with Slickcity exhibited several of these artworks, only this time it was different – viewers could scan a code where they get to experience the portraits exhibited in motion. Games and documentaries on design, art and textiles were also exhibited, offering viewers a VR experience.
Precise x Alneli x Bellamai
The Precise x Alneli x Bellamai design collaboration was a dazzling installation. It came as a surprise to see a lightning company (Precise), a bathtub company (Alneli) and a luxury furniture company (Bellamai Design) create such a perfect synergy with minimal effort. The installation reproduced a typical luxury Nigerian bedroom, with an oversized bed wrapped in a flowing duvet, an adjacent bathtub, a meeting chamber, and neutral-coloured sofas, both long and small and decorated with fancy throw pillows. The lighting arrangements were L-shaped; creating an indulging silhouette at one corner.
Spazio Ideale gravity-defying installation
A gravity-defying installation was never in anyone's mind at the design week Lagos but it was brought to visitors by Spazio Ideale, an interior design studio that also exhibited most of its latest untitled furniture pieces. The installation was visited by several celebrities and creatives and added to Design Week Lagos' interactive approach.
Receive our daily digest of inspiration, escapism and design stories from around the world direct to your inbox