Tosin Oshinowo on Sharjah, adaptable architecture and reuse
Architect Tosin Oshinowo is curating the 2023 Sharjah Architecture Triennial around beauty, impermanence and adaptability; we catch up with her to find out more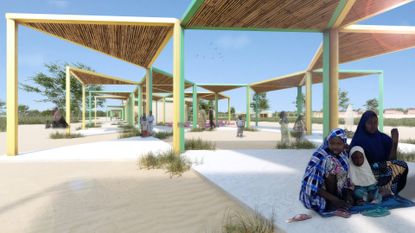 (Image credit: courtesy UNDP and Tosin Oshinowo)
Wallpaper* Newsletter
Receive our daily digest of inspiration, escapism and design stories from around the world direct to your inbox
Thank you for signing up to Wallpaper. You will receive a verification email shortly.
There was a problem. Please refresh the page and try again.
Lagos-based architect Tosin Oshinowo has recently been appointed as the curator for the second edition of the Sharjah Architecture Triennial, which will open in 2023. Renowned for her human-focused approach to design, Oshinowo has an impressive portfolio that stretches commercial, civic, and residential architecture. After establishing her firm cmDesign Atelier in 2012, she worked on sensitive, context-responsive projects that seek to address ecological, and social issues. Building on the previous (and inaugural) triennial in the region, which was overseen by architect and academic Adrian Lahoud in 2019, Oshinowo hopes to continue forging dialogues about architecture and urbanism in the Global South, around the theme 'The Beauty of Impermanence: An Architecture of Adaptability'. We talked to her to find out more.
Tosin Oshinowo on Sharjah, and more
W*: Tell us about the Sharjah Architecture Triennial. What was the thinking behind the theme of adaptability?
TO: Adaptability is about operating within tight constraints. In the context of the Global South, it is often about working with nature as opposed to against it. The triennial will explore how we can create meaningful spaces that speak to their local environments and will highlight the contextual architects that are currently doing so. I use the word contextual instead of vernacular as I feel society has made vernacular seem primitive and non-Western architecture is far from that.
W*: How will the triennial explore the African Diaspora?
TO: The triennial will explore the African Diaspora by showcasing oral cultures, building techniques, and by focusing on the collective rather than the individual. It will also identify key designers and thinkers in the Global South. For this project, I am drawing from the same inspiration I did for the project for the UN Development Programme (UNDP), where we built a new community in Northern Nigeria for a village displaced by Boko Haram. Throughout the triennial, I will continue to unpack places and their people, illustrating what is appropriate for communities and their context.
W*: Your work prioritises sustainability, resilience, and poise. Are these themes you aim to stick to for the triennial?
TO: This edition of the triennial will focus on materiality, innovation, reuse, and how we respond to extreme climate conditions. I come from a household where everything had a second life. So, when looking at objects I am always considering their value. It is fascinating what can be achieved when items aren't simply viewed as waste once they no longer serve their intended purpose.
W*: What does it mean to you to be the curator for the Sharjah Architecture Triennial?
TO: Curating is very different from practising as an architect. Being a curator means that the project isn't about your work but instead the work of others. It is still very creative but a completely different way of thinking. For the triennial I can bring together a wealth of work from different creatives in the Global South and create richer and more diverse reference points for both established and emerging designers.
W*: What can visitors expect?
TO: This Triennial is a labour of love and opportunity for discovery. It will provide people with an opportunity to think differently about spaces, practices, and designs across the Global South. As an architect coming from practice, it is very important to me that the triennial is inclusive. Visitors will not need to have prior knowledge to engage with the ideas on display. Whether you have a strong understanding of design or not, you should be able to take something away from the triennial.
W*: At present, what are your thoughts on architecture?
TO: The more affluent in the Global South are still emulating the Western world and this is something we need to pause. This context that we are trying to copy isn't appropriate for our own. While the world is gradually beginning to acknowledge that there is no real hierarchy in design, the architecture of Africa and the rest of the non-western world still needs to be championed more globally. This is what I hope to achieve through the triennial.
INFORMATION
Receive our daily digest of inspiration, escapism and design stories from around the world direct to your inbox