This Seoul coffee shop is bathed in blue
The new Blue Bottle Coffee shop in Seoul's Myeong-dong neighbourhood is a soothing, futuristic bubble of blue, courtesy of interior designer Teo Yang Studio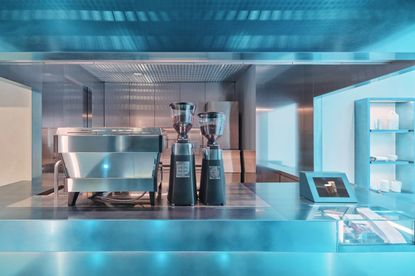 (Image credit: Courtesy Teo Yang Studio)
The Blue Bottle Coffee franchise – with over 100 stores internationally, and eight stores already in Korea – embarked on a new coffee shop in the bright and busy Myeong-dong shopping district in Seoul. For the design, the company tasked local Teo Yang Studio, which harnessed Korean architectural principles – and plenty of blue.
The studio, led by Seoul native Teo Yang (a Wallpaper* Design Award 2021 winner for Seoul's K1 arts complex), arrived at the drawing board for the new Blue Bottle Coffee store with the location's context taking a major role in its design. Dubbed a 'Blue House' by the studio, the outcome is an angular blue box.
Teo Yang Studio's Blue Bottle Coffee project, Seoul
The design for the Blue Bottle Coffee project creates a contrast with its location, in the centre of a commercial shopping district where 'selling products has become the main axis', as Teo Yang describes. Aiming to create an oasis of sorts, the studio's team began designing the storefront in minimalist opposition to the visually busy lights, signs and adverts of the shopping district.
Using the traditional Korean architectural principles of 'jakyung', which poses the house as scenery in itself, and 'chakyung', which means 'borrowing the outside view to accentuate the interior space', Teo Yang Studio used a 'philosophy of reduction'. This is seen in the white façade, featuring an entrance and the brand's logo. The logo's design was crafted by traditional local artisans Deok-Ho Kim and In-Hwa Lee, and takes centre stage.
Brushed steel covers most interior surfaces, with metal grill ceilings and the occasional white wall being the only exception. Pale blue LED lighting – a reductivist response to the bright lights of the store's street-side neighbours – plunges the interior into a space-age, but soothing, ambience.
Teo Yang Studio saw the coffee shop as an opportunity to create a moment of calm in the area: 'We wanted to altogether create a relaxing environment through the use of simple architectural shapes and concise materials [and offer] a moment to pause and rest.'
Blue Bottle Coffee began its journey in Oakland, California, in 2002 and has expanded across the USA; there's Blue Bottle Coffee in San Francisco, Los Angeles, New York and far beyond. In more recent years, the company has been dropping pins in China, Korea and Japan – we visited Blue Bottle Coffee Shibuya by Keiji Ashizawa in 2021, and the first Blue Bottle Coffee Kyoto in 2018.
teoyangstudio.com (opens in new tab); @bluebottle
Martha Elliott is the Junior Digital News Editor at Wallpaper*. After graduating from university she worked in arts-based behavioural therapy, then embarked on a career in journalism, joining Wallpaper* at the start of 2022. She reports on art, design and architecture, as well as covering regular news stories across all channels.