Interior renovation of Edinburgh support hub calls on local community
Ace Design Studio's interior renovation breathes new life into the Edinburgh home of Multi-Cultural Family Base, whose community reach enabled the refurb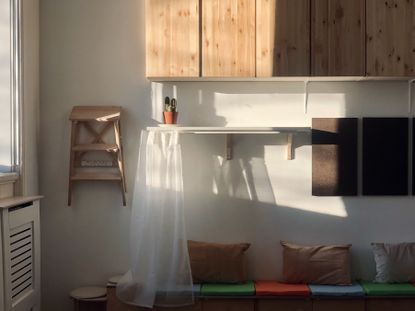 (Image credit: Courtesy Ace Design Studio)
Ace Design Studio took on the interior renovation of this listed building in Edinburgh's Leith, home to the local hub of a grassroots charity. Multi-Cultural Family Base is an early-intervention social support organisation that promotes wellbeing and opportunities for the vulnerable and disadvantaged. With a £15,000 budget for the project, UK-based Ace Design Studio needed to employ a resourceful approach to obtaining materials and manpower.
The design team took two rooms that had fallen into disarray and turned them into a space to be used for the charity's group work and activities, and another for counselling. The group room's high ceilings and large windows make for an open and light space, and different activity zones break the size of the room into smaller areas. Storage is tucked away under benches and in an overhead unit, while soft seating and play areas cater to the room's varied uses.
Rachel Codd, consultant interior designer on the project, highlights the contributions from people in the community: 'The volunteering effort to physically complete the works has created a sense of belonging, with so many suppliers pulling through to provide expertise and donations.' Paint was provided by Graphenstone, and Ikea's reuse hub was called on for interior pieces, contributing to an overall sustainable ethos for the project.
Ali Uddin, the project's lead designer, talks of the importance of understanding the needs of the space before embarking on its refurbishment, and the collaborative approach used. 'It was refreshing to conceptualise with the clients at such a deep social level – identifying specific vulnerabilities of their local community and how interior design could respond with a narrative of collective ownership and familiarity.'
mcfb.org.uk (opens in new tab)
Martha Elliott is the Junior Digital News Editor at Wallpaper*. After graduating from university she worked in arts-based behavioural therapy, then embarked on a career in journalism, joining Wallpaper* at the start of 2022. She reports on art, design and architecture, as well as covering regular news stories across all channels.