The Unseen Beauty launches pioneering colour-changing hair product
Colour Alchemy is a new hair product that changes colour in response to temperature and light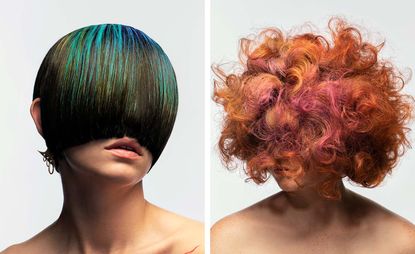 (Image credit: James Stopforth)
Material science company The Unseen Beauty has just launched a colour-changing hair product. Colour Alchemy is available in five iridescent shades that morph into molten colours according to temperature and sunlight.
The product is suitable for even very dark hair, and the colour range for each is kaleidoscopic, with shades such as Borealis, which transforms from clover green to flame orange to imperial violet, and Phoenix, which transitions from burnt orange to pollen yellow to ultraviolet.
Colour Alchemy comes a year after the launch of The Unseen's 'dual reality' eyeshadow, which appears one way in photographs and another way in real life. This addition of hair 'make-up' to the company's catalogue furthers its mission to innovate the way that the beauty industry utilises colour.
'I started The Unseen to create products that open new possibilities in beauty and transform how you see the world,' says founder Lauren Bowker. 'I wanted to develop true innovations – exploring colour, playing with light and revealing a side of beauty or yourself that you've never seen before. We wanted to create a colour that was alive, that moved with you as you move through your world. Why does colour have to be static?'
For Bowker, Colour Alchemy is 'the world's first hair colour that is truly alive', because it responds instantly to its surrounding environment, transforming along with you as you move through the world. The product was inspired by the phenomenon of structural colour that appears in beetles, peacocks, and butterflies. Simply put, their pearlescent appearance is a result of the way their coats reflect a certain wavelength of light.
Colour Alchemy mimics that phenomenon through a formula composed of thousands of micro prisms, which expand and shrink in relation to temperature, allowing them to reflect different wavelengths of light in a manner that has never before been seen in a hair product.
Following the debut of Colour Alchemy, Bowker promises there are more pioneering launches coming up.
'We have a wealth of innovations to come and we are focused on dropping products that truly transform their sector. We will do this in time, when they are ready. We won't conform to the boundaries of a usual beauty business model; instead, we see ourselves as a collaborative community creating a movement in beauty – bringing together people who like us have an insatiable curiosity to explore the world.'
INFORMATION
Mary Cleary is the Beauty & Grooming Editor of Wallpaper*. Having been with the brand since 2017, she became an editor in February 2020 with the launch of the brand's new beauty & grooming channel. Her work seeks to offer a new perspective on beauty, focusing on the pioneering personalities, product designs, and transformative trends within the industry.