Out of this world beauty: the rise of skincare for space travel
Space tourism has prompted the development of skincare for space, with brands such as 111Skin creating products that respond to the cosmetic damage caused by life at microgravity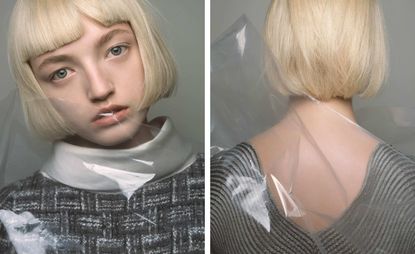 (Image credit: Bridgitte Niedermair)
Skincare for space is no longer the stuff of science fiction, with the emergence of space tourism prompting companies to develop cosmetic products fit for life at microgravity. 'Consumers are increasingly interested in space travel as it starts to become a reality, creating a new destination and application for beauty, particularly high-performance skincare,' says Clare Varga, director of beauty at the trend forecasting agency WGSN.
Grooming in space is, unsurprisingly, complicated. Showers and baths are impossible. As is doing a load of laundry, brushing teeth with running water, or even washing your face under a tap. Beyond that, cosmic radiation and lack of gravity have a dramatically detrimental effect on the skin, so that going into space, in effect, ages you at lightning speed.
'With the possibility of space travel becoming as ubiquitous as aviation, the beauty industry will have to adapt to new requirements,' says Varga. And some brands already have. London-based skincare brand 111Skin has long used the science around space travel to fuel its own examinations of skin ageing and repair under extreme conditions. 111Skin began when its founder, cosmetic surgeon Dr Yannis Alexandrides, started working with two scientists from the Soviet space programme to develop a cream that could help his patients heal post-surgery and reduce the appearance of scarring. Being in space causes the skin to age at a hyper-accelerated rate and, by understanding how scientists were protecting the skin of their astronauts, Alexandrides was able to develop a formula that produced the same intensely reparative results here on earth.
'The scientists were in charge of the wellness of the astronauts,' says Alexandrides. 'So they were in charge of the food, the supplements, and protection from any harm to health. Space is a very hostile environment and it's very detrimental to the skin. The absence of atmosphere means that the cosmic radiation is very intense and causes immediate ageing of the skin.' It makes sense, then, he adds, that the scientists were best placed to counteract these effects, as they had 'access to information that no one else did'.
'It's not just the cosmic radiation that damages skin, it's also the lack of gravity,' says Alexandrides. 'This is an area of intense research right now. A lot of medical breakthroughs take place because of these experiments and it was the reason why we created our first patented complex of ingredients called NAC Y2.'
The brand's Reparative Collection of skincare creams, serums, and masks uses the NAC Y2 formula to dramatically reduce the appearance of wrinkles and pigmentation. 111Skin's Skin Reparative Beauty Dose supplements are based on capsules given to astronauts to help impede rapid ageing, and are formulated with vitamins A, C and E and a multitude of antioxidants.
While 111Skin has used the science of space travel to create products for use on earth, a number of other companies are investing in formulations designed specifically for use in space. Japan's Pola Orbis has reportedly teamed up with Ana Holdings to develop what will be the first-ever space-friendly cosmetics line. Meanwhile, American laundry company Tide is working with Nasa to create laundry solutions for space, with astronauts testing stain-removal wipes and pens at the International Space Station. Colgate-Palmolive group even sent waterless oral care solutions to outer space last year.
Solutions for space beauty already exist here on earth, with skincare technology brands like Foreo have created products for effectively cleaning skin without the use of water. Its popular range of Luna devices uses massaging silicone bristles to remove up to 99.5 per cent of impurities with little to no water. Meanwhile, classic sheet masks offer a liquid and cream-free way to moisturise skin beyond the earth's orbit.
Varga even suggests that companies should start looking into space-friendly fragrances that can be used to combat travel sickness or light-headedness.
INFORMATION
111skin.com (opens in new tab)
Mary Cleary is the Beauty & Grooming Editor of Wallpaper*. Having been with the brand since 2017, she became an editor in February 2020 with the launch of the brand's new beauty & grooming channel. Her work seeks to offer a new perspective on beauty, focusing on the pioneering personalities, product designs, and transformative trends within the industry.