Try this ski fitness programme before you hit the slopes
Expert trainers share fitness and dietary advice for getting in shape before hitting the slopes. This is the only ski fitness programme you'll need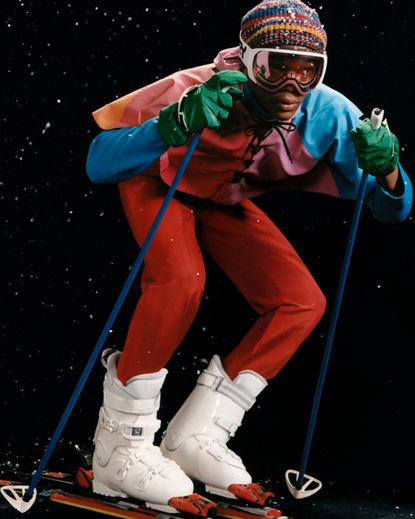 (Image credit: Fumi Homma)
Winter may be edging towards its bitter end but there are still a few more weeks left of ski season. Those lucky enough to make it to the slopes this year might be dreaming of graceful glides down snowy peaks, but skiing means exercise and it can take a toll on the body if not done correctly.
Lotti Sorrell, a former competitive ski racer and current trainer at London's Bodyism, says: 'Whilst it may not be an ultra-marathon, a ski holiday definitely takes its toll on unprepared muscles. I wish I wasn't speaking from experience, but so many ski or snowboard injuries I've come across have been a result of fatigue or strain, because the muscles, tendons and ligaments simply aren't used to taking on so much all at once.'
Below, we feature the best practices for getting fit before your trip as recommended by Sorrell and trainer Chloe Trigg, who is based at London's Blok.
Ski fitness ahead of your trip
Cardio workout regime
Trigg recommends building leg strength by focusing on single-leg movements with exercises such as lunges, single-leg deadlifts and Bulgarian split squats. She recommends you keep reps high to build muscular endurance as well as strength and, for movements that are new to you, start off using bodyweight only.
'Try three to five sets of ten reps per leg,' she says, 'increasing the weight every week. Remember, though, control the tempo and focus on full, quality range before increasing weight!'
When it comes to building your core strength, try plank variations such as high, low, and side plank holds. Even better are core exercises where you rotate, twist and/or challenge your body's centre of gravity. Doing this helps to replicate the kind of uneven and unexpected terrain you will be faced with on the slopes. Exercises such as side plank rotations, low plank oblique twists, Russian twists and single-leg cross-body crunches are also great.
'Try a circuit of three to five rounds on four exercises, working for 45 seconds per exercise and 15 seconds' rest in-between,' says Trigg.
Cycling
Whether it means biking to work or trying a spin class at the gym, cycling is a great way to build lower body strength and improve cardiovascular fitness. You'll find that having stronger glute muscles and improved overall endurance will make it easier to stay on the slopes longer.
Isometric holds throughout the day
In addition to cardio workouts, Sorrell recommends incorporating isometric holds, or the types of exercise that hold the body in one position, into your everyday activities. Do a few lunges while waiting for your morning coffee to brew or 'hold a wall sit while brushing teeth to prep the body for what's to come'.
A high-protein diet
According to Sorrell, a high-protein diet will never go amiss but it is especially useful before an exercise-heavy holiday. 'Protein will help with satiety, maintaining strong bones, repairing post-injury, and of course, building and maintaining muscle mass.'
Pilates or yoga
It is important to work regular stretching into any strength-training regime. Pilates, in particular, often incorporates core-building isometric holds while stretching muscles for improved mobility and flexibility.
INFORMATION
bloklondon.com (opens in new tab); bodyism.com (opens in new tab)
Mary Cleary is the Beauty & Grooming Editor of Wallpaper*. Having been with the brand since 2017, she became an editor in February 2020 with the launch of the brand's new beauty & grooming channel. Her work seeks to offer a new perspective on beauty, focusing on the pioneering personalities, product designs, and transformative trends within the industry.