Shags and mullets: navigating this season's most desired hairstyles
Hairstylists share everything you need to know before chopping locks into this season's shag and mullet cuts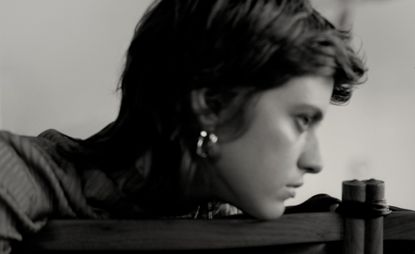 (Image credit: Julien T Hamon)
'Here's the thing about mullets,' James Pecis – legendary hair stylist and Session Stylist for Oribe – told us over a recent Zoom call. 'You say mullet and everyone laughs… but really it's just a super heavy fringe with some length in the back. It doesn't always have to be an extreme Canadian hockey player or Australian surfer mullet.'
It's true that the mullet has been undergoing something of a makeover lately, going from one of the most derided hairstyles of the 20th century to one of the most cultivated cuts of the 21st. Whether you're thinking of trying a full-blown 'Canadian hockey player' look or going for the more subtle 'shag' look that Pecis' describes, it's best to consider all your options before taking to the scissors.
To help, we've asked hair stylist and fellow Orbie representative Nicci Welsh to talk us through it all.
Mullet or shag?
'If you are thinking of trying a shag or a mullet, two of the trending cuts of the season, there are a few pointers you need to know,' says Welsh.
'A mullet is cut short in the front and on the sides, but left untouched or longer in the back. Although hair will be longer in the back, you will only see a short hairstyle straight on.
'A shag haircut stays longer all the way around the edges, with lots of internal layers. These shorter layers create volume around the crown, which you often loose with a longer layered haircut. This look gives the perception of having longer hair,' Welsh continues.
'You can take these looks one step further by attempting the shaggy mullet. The shaggy mullet is a choppy layered combination of the two styles.'
Finding the cut that best suits your hair texture
'Hair types play a big role with the outcome of these styles,' says Welsh. 'Going along with this, hair and scalp health are the main foundation of any amazing hairstyle.'
Unsurprisingly, Welsh recommends looking to Oribe's wide range of products to ensure hair is as healthy as possible, and we have to agree that the luxury haircare brand offers the best selection for all hair-health concerns.
'A shag haircut creates fullness from the layers, which is great for fine hair,' says Welsh. 'Using Oribe Grandiose Hair Plumping Mousse will help pump up the volume, giving your hair an even fuller look.
'If you have thick, straight hair, both the shag and mullet will suit you. Use Oribe Dry Texturizing Spray to bring out the texture in your hair, while adding lift and volume.
'Curly hair is best for a mullet, as it creates the perception of a narrow shape to your head. If you want to enhance your curls, use Oribe Curl Control Silkening Crème, which includes a beautiful blend of oils that helps define your curls, while controlling frizz.'
Finding the haircut that best suits your face shape
'If you have a wide jawline, the face-framing layers of a shag can soften the face frame. Finish the shag look off with Oribe Airstyle Flexible Finish Cream. The product's natural flower wax blend creates touchable, reworkable texture, giving it that on-trend finish,' advises Welsh.
'Avoid either look for small or narrow foreheads, as it will create the illusion of a smaller face. Instead, opt for a longer, sweeping curtain fringe that pulls away from your face.
'A mullet cut can also even out a long face with a sharp or more prominent jawline. Use Oribe Rough Luxury Molding Wax to bring out a feathery texture to the back while adding some structure to the top.'
Receive our daily digest of inspiration, escapism and design stories from around the world direct to your inbox
Writer and Wallpaper* Contributing Editor
Mary Cleary is a writer based in London and New York. Previously beauty & grooming editor at Wallpaper*, she is now a contributing editor, alongside writing for various publications on all aspects of culture.
With contributions from