Olivier Rousteing on Balmain's new candle collaboration with Trudon
Olivier Rousteing, creative director of Balmain, tells us about his fragrant collaboration with historic French candlemaker Trudon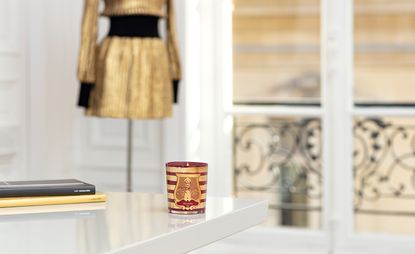 (Image credit: Balmain ,Trudon)
'A new French style' is how Alice B Toklas, member of the Parisian avant-garde, described Balmain when the first collection debuted in 1945. Seventy-five years on, its current creative director, Olivier Rousteing, is carrying on the tradition of innovation. Perhaps fashion's most impressive Wunderkind – he took the helm of the brand at just 25 years old – Rousteing revitalised the brand by translating traditional couture techniques into a contemporary vernacular.
Olivier Rousteing on a very French vision
It seems only natural, then, that Rousteing would collaborate with candlemaker Trudon, a company known for its 'reliance on archives, savoir-faire and legacies as key ingredients in the creation of offerings that are very much of today', as he puts it.
'Centuries ago, Trudon concentrated on meeting the needs of the powerful French monarchy and church – but now, with its inventive scents and beautifully presented candles, the company inventively relies on its wealth of knowledge and experience to surprise with new breakthroughs and reimagined offerings that fit perfectly into a 21st-century, modern ambiance,' adds Rousteing.
The new Balmain-Trudon candle
The first Balmain-Trudon candle came out last year, but this limited edition features a new container and a new scent, derived from Trudon's ever-popular 'Ernesto' candle. The 'Ernesto' is very familiar to Rousteing, who often burns the luxury candles in his home, studio, and even the Balmain flagship.
For him, 'there is something a bit spiritual about a candle. I love the tiny bit of a ceremony that is part of setting it out, lighting it and letting its soft light give a new warmth to a space. Somehow, it relaxes me and helps me feel more creative as I work. I guess that feeling should not be all that surprising, knowing that Trudon originally began, centuries ago, creating candles for French cathedrals.'
Rousteing worked with the nose behind the 'Ernesto' candle, Emilie Bouge, to create a floral, slightly more delicate edition of this classic scent. The original 'Ernesto' is inspired by a Havana hotel during the Cuban Revolution, and features a steamy mix of tobacco, cedar and gunpowder.

'If Ernesto was incarnated it would be a Cuban rebel like Che Guevara, smoking his cigar with his sleeves rolled up,' says Julien Pruvost, Creative Director for Trudon. 'The Balmain version is a feminine [incarnation] of that scent. She wouldn't smell like tobacco and leather but she would be impregnated with that because she's around these men. She's part of the rebellion but carries a deep sensual kind of dark floral notes, like a black rose.'
The candle's striped, red and gold container is a visual complement to Balmain's fashion collections. As with all Trudon candles, the glass container has been handcrafted in Tuscany and filled with a unique wax formulation perfected over its over 300 year history. Rousteing says, 'The bold stripes on the glass container reference one of Balmain's icons: the house's modern, luxe take on Normandy's traditional marinière sweater. We've played with new takes on the marinière on almost every Balmain Paris Fashion Week runway for the past decade.' The gold colouring, meanwhile, is 'a salute to Balmain's couture origins'.
Keeping a historic brand relevant
Ultimately, the new Balmain-Trudon candle is a compelling study in how historic brands innovate and collaborate to stay relevant to a modern audience. Asked about this, Rousteing says: 'Balmain rests atop an incredible legacy. And, of course, each of our collections builds upon that history, looking to our rich archives for inspiration and relying on skilled artisans, whose savoir-faire is based on centuries of Parisian fashion refinement and learning. But, at the same time, this house could not possibly be more of today. That's because Balmain has always looked to the power of popular culture, as well as the energy and beauty surrounding us on the avenues and boulevards of Paris, for inspiration.'
This constant celebration of new thoughts and new voices is what guarantees that the historic house continues to offer a truly modern and compelling outlook.
INFORMATION
Mary Cleary is the Beauty & Grooming Editor of Wallpaper*. Having been with the brand since 2017, she became an editor in February 2020 with the launch of the brand's new beauty & grooming channel. Her work seeks to offer a new perspective on beauty, focusing on the pioneering personalities, product designs, and transformative trends within the industry.