Nakeya Brown explores Black womanhood through hair
For her latest series, the photographer documents trends in African American hairstyles from the mid-century onwards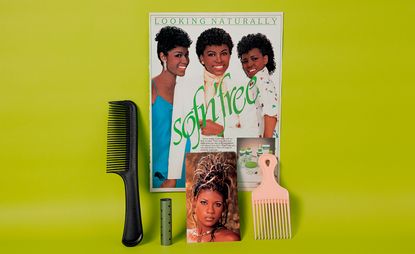 (Image credit: Nakeya Brown)
There's a whole lot of meaning attached to how we wear our hair. Run a fine-toothed comb through history and you'll find identity, politics, and resistance deeply entwined with our tresses. Unlocking these connections has defined the work of photographer and fine artist Nakeya Brown, whose powerful still life series reflect on Black femininity and the cultural codes behind African American hairstyles.
For her latest series, 'Xpressions: Black Beauty Still Lifes,' Brown takes us on a nostalgic journey through the rituals and trends that have shaped Black female identity from the mid-century onwards. Pairing beautification devices with books, ads, and homewares from the 1950s to the present day, she positions Black cultural ephemera at the centre of her still life photographs, exploring the connections between beauty practices and self-identity.
'Since 2012 I've explored the notion of beauty through my lived experiences as a Black girl and woman' says Brown. 'Through that process I started to collect a lot of objects related to the marketing and selling of beauty to Black women. This series of images draws inspiration from those markets and broadly explores the archetypal depictions of Black women that we encounter everyday as consumers.'

The images chart the dramatic shifts in trends and techniques with the onset of scientific developments in hair technology. 'I noticed that in the 60s and very early 70's there were a lot of wig ads. Kanekalon fibers were introduced to America within that decade and since the fibers were so cheap to make, they were made in mass amounts. Whether the manufacturer was in Ohio or Chicago, they pushed out wigs by design catered to Black female consumers.'
From the 1980s to the 2000s, she documents a shift in marketing towards sew-ins, chemical straightening, and thermal curling, with braided styles promoted more in the Southern and Tri-State areas of the United States. By positioning objects from the home alongside beauty products and marketing imagery, Brown also reflects on the trajectory of Black women's work lives in America.

'The domestic interior, the beauty sector, and Black women have been intertwined in a complicated way—one sector (the beauty industry) was a dignified pathway out of another (domestic work). From what I've learned, Black women have been not only been defining femininity as how to look and feel, but also how to provide for oneself in a self-determined fashion.'
In recent times, locating beauty within a wider framework of activism has been an important theme in Brown's work. 'Tiffany M. Gill and Maxine Lee Craig wrote extensively about this intersection. It has helped me to learn more about the histories of political activism amongst Black women through the beauty culture industry.'

'It also led me to learn more about Black-owned businesses and be able to bring those enterprises into my work so that in turn I can keep that particular strand of history in view. Throughout history, I think there's been sustained efforts by women to expand how beauty is defined.'
INFORMATION
nakeyabrown.com (opens in new tab)