Minimalist beauty: how to keep your regime simple
Minimal beauty is set to reshape the industry, but what exactly does it mean? And how can you find a regime that works for you?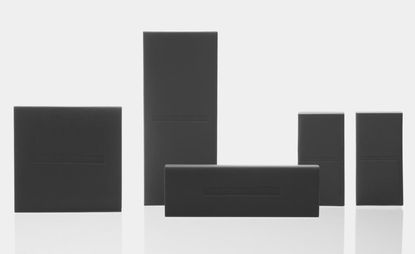 (Image credit: press)
It's a bit of an understatement to say we have a soft spot for minimalism here at Wallpaper*. From architecture to design, art to fashion, we can't resist an elegantly pared-down creation. It should come as no surprise, then, that we're enthusiastic proponents of minimal beauty too.
We welcomed the rise of 'skinimalism' last year, as lockdowns encouraged many to wear less make-up and favour a simplified beauty regime that placed a premium on natural, healthy skin. But how will the trend evolve as many of us begin to enter a new, post-lockdown reality?
Below, we delve deeper into the concept, speak to trend forecasters about how it will continue to develop, and share the best products for building your own minimalist beauty routine.
Minimalist skincare
Founder of innovative wellness company The Nue Co, Jules Miller is a vocal supporter of less-is-more skincare. In her view, our current consumption habits are part of a destructive cycle fuelled by companies looking to sell as much as they can. 'Our current approach to skincare is fundamentally flawed,' she says. 'The 'shelfie' era has led us to have bathroom cabinets overflowing with products that we couldn't possibly use within their expiry date,' she explains, and suggests that in using a vast array of products we may be damaging our skin.
'Dermatologists have identified the erosion of our skin barrier as the number one cause of skin issues, resulting in premature ageing, breakouts, hyperpigmentation, sensitivity and dryness. Most of these are addressed at symptom level, using a multitude of individual products,' continues Miller.
In essence, the more products we use, she believes, the more we tend to damage our skin. The more we damage our skin, the more products we continue to buy to fix the problem. It's a vicious circle, and one The Nue Co, along with a few other brands, is hoping to end.
The Nue Co
The Nue Co's Barrier Culture is one of the most effective minimal skincare regimes on the market. The two-step routine features a cleanser and a moisturiser, each formulated with patented technology delivering prebiotics, probiotics and postbiotics to rebuild the skin's microbiome (essentially, its natural balance of microbes) and protect it from external aggressors.
Align
Align's only product is a hydrating oil designed to be used on face and body for people of all ages and skin types. The Oil is a simple blend of five natural ingredients- almond oil, avocado oil, rosehip oil, vitamin E, tea tree oil- and is a handy, multi-purpose stand in for the proliferation of body creams, facial moisturisers, and the like that tend to clog up bathroom shelves.
We recommend using The Oil with a gua sha to encourage lymphatic drainage or post-shave to prevent in-grown hairs.

helloalignskin.com
Homework
New London-based brand Homework is an all-natural fragrance and skincare brand that uses a minimal amount of ingredients to have maximal impact. Founder Stephanie Hannington-Suen has used her background in traditional Chinese medicine (TCM) to develop the formulations, the most notable of which include botanical body soaks and soap bars.

Soaps like the Poppy Seed Bar use petitgrain, coriander and pink grapefruit essential oils to rejuvenate skin and poppy seeds for non-abrasive exfoliation. While the Wood Bath Soak takes a simple blend of Dead Sea and Epsom salts and uplifts it with bits of pine, Chinese cedar, ho leaf and dried nettle leaves.
Oureme
We're also fans of Wendy Ouriel's skincare line Oureme, which we featured in our June 2021 issue. Ouriel created the line after she developed acne in her mid-twenties and found it was only made worse by the expensive skincare she was using to remedy it.

So, she resolved to make a skincare line of her own and used her background in extracellular matrix biology as the basis for her formulations. The tight edit of five serums can be adjusted to suit your particular skin type (oily, mature, and so on) with all configurations designed to produce transformative results.
Less
Still, 'skinimalism' is nothing new. Back in 2017, German skincare brand Less won a Wallpaper* Design Award for its sleek approach to skincare. Four years on, the brand still hasn't expanded beyond its original three products – two oils and a traditional Moroccan washing clay called ghassoul – proving its real dedication to the minimalist ethos.
'The joy of making a really good choice'
So will this trend continue past the pandemic? According to trend forecasters, the answer is yes. 'Coming out of the pandemic, you'll see people become a lot more frugal,' says WGSN's head of beauty Clare Varga. 'And by frugal, I don't mean penny-pinching, but they'll want to know that things work, to buy something that's really effective, with proven results.
'So the way I see skinimalism evolving is that it becomes about the joy of making a really good choice – when you buy something and you feel you're getting value for money, not because it's cheap, but because it's effective,' continues Varga. 'It's not just about time-saving or using fewer products, it's about that joy of making a really good, sensible decision.'
Minimal beauty
Varga and the team at WGSN predict this philosophy will extend into cosmetics with the emergence of 'multi-hyphenate products', or colour cosmetics that double as skincare.
Givenchy Prisme Libre foundation
Our favourite recent launch in this category is Givenchy's Prisme Libre Skin-Caring foundation. Its formulated as 90 per cent skincare and 10 per cent colour-correcting make-up, meaning it doesn't clog pores and actually feels good to wear but, importantly, still offers effective coverage.
Merit Minimalist stick
Merit is a vegan beauty brand that aims to cut down on amount of products you consume by combing skincare and makeup.

Products range from tinted lip oils to eye brow pomade, but the most noteworthy is hands-down The Minimalist- a 'completion stick' meant to replace your foundation and concealer. The bendable stick provides breathable, light-to-medium coverage and formulated with daffodil extract that helps diminish the appearance of pigmentation and dark spots.
Dior Lip Maximiser
Dior's popular Lip Maximiser is another example of multi-hyphenate beauty. The high-shine gloss is formulated with hyaluronic acid that offers powerful hydration and noticeable plumping.
Sisley So Volume Mascara
Sisley Paris was one of the first cosmetics brands to use botanical essences in its formulations, so it's no surprise that it is already ahead of the trend when it comes to multi-hyphenate beauty. Its So Volume Mascara is formulated with vitamin B5, Japanese cherry blossom extract, and castor oil intended to help strengthen lashes over time while providing voluminous everyday coverage.
A Complexion Company
The multi-hyphenate beauty trend is also extending into the wellness category, with brands such as A Complexion Company creating a single product that promises all-around improved health. The brand uses traditional African medicinal ingredients to create its powder supplement for maintaining energy, improving focus, and reducing PMS symptoms.
What's good for your skin is good for the planet
The trend for minimalist beauty is rooted in a desire for a healthy planet as much as in a desire for a healthier appearance (not to mention bank account).

Says The Nue Co's Jules Miller, '120 billion units of packaging are produced annually by the cosmetic industry, with the majority ending up in landfill. This significantly increases air pollution, [which contributes] to the erosion of the skin barrier. The cycle continues as we turn to the consumption of more products as a solution.'

As the beauty industry wrestles with the issue of sustainability, creating fewer products is one of the easiest, and most effective, solutions there is.
Receive our daily digest of inspiration, escapism and design stories from around the world direct to your inbox
Writer and Wallpaper* Contributing Editor
Mary Cleary is a writer based in London and New York. Previously beauty & grooming editor at Wallpaper*, she is now a contributing editor, alongside writing for various publications on all aspects of culture.