Design figures on the scents they find sanctuary in at home
Sabine Marcelis, Farshid Moussavi, Alice Rawsthorn, and Formafantasma share the frangrances filling their homes during lockdown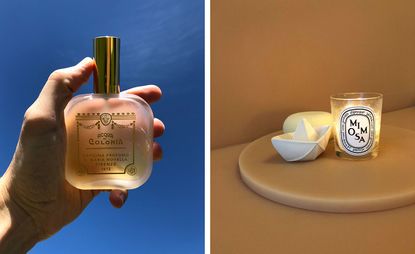 (Image credit: Formafantasma, Sabine Marcelis)
We all have a personal catalogue of scents that can, for whatever reason, momentarily transport us back to another time and place. Andy Warhol famously curated his own 'permanent smell collection', changing his perfume every three months so that with one sniff he could instantly return back to a specific time. It was, he said, 'a neat way to reminisce'.

During these anxious times, we asked some of the most innovative creatives working today to share their own 'neat' ways of conjuring up comfort through smell. For designer Sabine Marcelis, the beloved scent of mimosa is recreated in a Diptyque candle. Acclaimed architect and Harvard professor Farshid Moussavi uses a Buly 1803 body milk to evoke the memory of her childhood home in Iran now that she can't travel back.

While Alice Rawsthorn, author of Design as an Attitude, and Andrea Trimarchi and Simone Farresin of design studio Formafantasma use products from one of the world's oldest pharmacies as an antidote for lockdown induced malaise. Below, peak into their homes and let their olfactory reminisces bring you on own sensory journey.
Sabine Marcelis – Mimosa candle by Diptyque
'My absolute favourite smell in the whole world is hands-down Mimosa flower. Whenever it's in season I try to buy fresh bunches of the flowers for in the house. Spending so much time at home recently but the flowers not being in season, my boyfriend got me a scented candle with a Mimosa smell. I light it when taking a bath and it reminds me of amazing times spent in the South of France – particularly big lunches and dinners with friends at the Villa Noailles where they have a lot of it growing wild and it adorns the communal tables in big bunches.'
Farshid Moussavi – Lait virginal orange blossom body milk by Buly 1803
'When I was a child, our garden was filled with orange trees and every mid-March to mid- April they would be in full bloom and fill our front garden with the scent of orange blossom. My mother would make orange blossom jam or tea with it and we children would make necklaces with the blossoms. So the scent of orange blossom has stayed with me as the scent of home and of renewal of nature relating to spring. I was therefore delighted a few years ago when I discovered Buly's orange blossom body cream which I use daily. It has been especially comforting this March and April when we have been in lock down and I have not been able to visit my parents.'
Alice Rawsthorn – Scented terracotta pomegranate by Santa Maria Novella
'A few months ago I was given a Santa Maria Novella pomegranate terracotta diffuser as a thank you gift. As I travel (or travelled) so much, I decided to wait until I'd spend a lengthy period of time at home to make the most of it. Cue lockdown, and the delicious, subtly fruity scent of pomegranate.'
Andrea Trimarchi and Simone Farresin – Aqua di Colonia by Santa Maria Novella
'Apart form being a quite spicy and particular fragrance (it smells of wood and oriental notes) we love La Marescialla for its historical roots. The formula dates back to the 1800s and was created for a French Countess who used it to perfume her gloves. In Tomasi di Lampedusa's literary masterpiece Il Gattopardo, Angelica wore this perfume at the ball in Salina, where 'the fragrance of the bouquet à la Maréchale arose from Angelica's neckline…'.
Mary Cleary is the Beauty & Grooming Editor of Wallpaper*. Having been with the brand since 2017, she became an editor in February 2020 with the launch of the brand's new beauty & grooming channel. Her work seeks to offer a new perspective on beauty, focusing on the pioneering personalities, product designs, and transformative trends within the industry.