How to apply bronzer like a Chanel make-up artist
Learn how to apply bronzer like an MUA with this step-by-step guide from Chanel's in-house make-up artist Kay Montano, feturing simple tips for a healthy-looking glow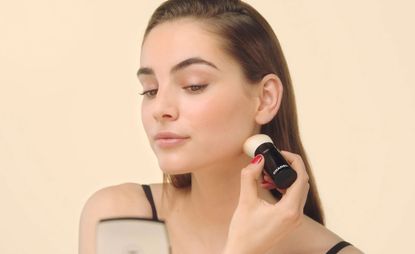 (Image credit: chanel)
Bronzer – some say it's a must-have, others say it's a menace. Knowing how to apply bronzer, it seems, is really the key. Use it well and you'll end up with more defined contours and a healthy-looking glow. Apply with slightly less skill and you can end up looking like you just got a very splotchy suntan.

Thankfully, Chanel's in-house make-up artist Kay Montano has created this comprehensive guide on bronzer basics, answering your most burning bronzer questions and providing straightforward tips on how to apply it.

Montano's tips couldn't be better timed, as Chanel prepares to launch new shades of its beloved Les Beiges Healthy Glow Bronzing Cream on 4 June.

See her advice below, and for more how-tos from Chanel make-up artists, visit our story on creating a no-make-up look using, what else, make-up, and our tutorial on applying make-up for men with Boy de Chanel.
Bronzer: the basics
Wallpaper*: Are there any general guidelines that work for everyone, or does it depend on face shape?

Kay Montano: You can really add bronzer how you like; it's a product that works for all face shapes. If you want a sun-kissed glow, it's best to think of where the sun would hit your face from above – the cheekbones, temples, nose and chin – and blend seamlessly into the neck.

This approach will soften, rather than accentuate, the contours of the face. If you want added definition, you can use bronzer to create subtle shadows [see How to Apply Bronzer tips, below], but use the product sparingly, it's not about changing the shape of your face.

W*: Why do you think cream bronzer is having such a moment right now?

KM: The creamy texture is far more subtle, far easier to blend, is less 'muddy' looking, and sits more naturally on the skin. Powders can also accentuate fine lines, 'flatten' the complexion and stop light bouncing off the face. Healthy skin looks alive and glowing, and most people want to replicate that.

However, powder can be useful across the T-zone to prevent shine. I rarely use powder bronzer all over, but if you do, I suggest using one that is not too much darker than your skin because it is denser in colour.

W*: Some bronzers can look orangey or ashy on skin tones: is there anything we should look for when purchasing? Especially as we now purchase so much more online?

KM: It's important to choose a bronzer that is not too much darker than your own skin tone, and avoid the old-school, matte terracottas of the 1980s. I also like to use a peachy or rosy blush on the apples of the cheeks afterwards, as this adds a very healthy, 'outdoorsy' freshness to the face and helps to make bronzer look more like you've had an actual afternoon in the sunshine.

W*: What's the best bronzer for light/medium/deep skin tones?

KM: I've always loved Chanel Les Beiges Healthy Glow Bronzing Cream because it's not too dense in colour, so you have control from the beginning and can start soft and build up (minus the dry look of powder) if needed. It now comes in two shades, one medium shade and one deeper shade. We're watching this space to see what comes next.

W*: What are some of the other versatile ways of wearing bronzer?

KM: Bronzer is great as an eyeshadow too, and it accentuates the colour of blue and green eyes.
How to apply bronzer
It is essential to put make-up on in good light, especially when trying something new. Natural light is the best; position your mirror where you're able to have natural light on your face.

If you are using bronzer to further define the structure of your face, start with an even complexion. Apply concealer to any under-eye circles or blemishes – you don't need a full application of foundation to even out skin tone, but if you prefer fuller coverage, now is the time to apply your base.

Then, using a soft, round, large brush, swirl the brush around and into the bronzer. Chanel Les Beiges Healthy Glow Bronzing Cream is sheer enough to ensure that the product never goes on too densely or unevenly. If you are using another bronzer, brush onto the back of your hand to get rid of any excess colour.

For defined structure, softly blend the product around the edges of your face – just above the temples, above your eyebrows, underneath your cheekbones and along your jawline. Buff what is left on the brush onto the face from the direction that the sun hits you from above – so down the bridge of your nose and just a dusting of bronzer on the apples of your cheeks.
INFORMATION
Receive our daily digest of inspiration, escapism and design stories from around the world direct to your inbox
Writer and Wallpaper* Contributing Editor
Mary Cleary is a writer based in London and New York. Previously beauty & grooming editor at Wallpaper*, she is now a contributing editor, alongside writing for various publications on all aspects of culture.