At home with Charlie Le Mindu
We caught up with Charlie Le Mindu, the French hair artist best known for his work with Lady Gaga and Julia Fox, ahead of the exhibition and auction of his work in Paris this week.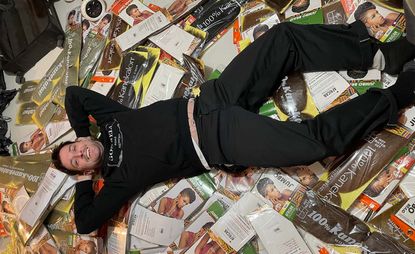 (Image credit: press)
Charlie Le Mindu's hair creations include Lady Gaga's iconic lip-shaped bouffant, a ponytail whip for Julia Fox, stylized chest hair for London-based label Art School, head-to-toe hair suits for the Berlin State Ballet and many, many more hallucinatory dreamscapes turned hairy realities.
This week, some of Le Mindu's most memorable creations will be displayed at Artcurial in Paris with an auction to follow on 5 October. Ahead of the opening we caught up with him to discuss the advice he would give to his younger self, his ideal conditions for creating, and more.
At home with Charlie Le Mindu
Where are you at the moment? What can you see?
I am in a plane, which is currently boarding at Teterboro Airport, NJ, USA. I am listening to Underspreche while looking at the screen in front of me, trying to find a movie I haven't seen yet. Out of the window, I can see Jets flying away.
Why did you become a hairstylist?
Because I am obsessed with hair. This medium is all about emotion. I aim to spark emotions in people, or as I like to say: 'hairmotion.' I want to make the viewers feel good, or make them think, question what they see.
Also, I wanted to do a job in which I can be free and be able to work and make cash anywhere on the planet in any circumstances. Freedom is really important to me.
How do you define beauty?
Beauty is first and foremost health. I would say it is a clear state of mind. It is not only appearance or an aesthetic: beauty is a feeling that you project on who surrounds you.
Who is your dream collaborator?
I would love to do something with the Japanese architect Tadao Ando: the organic looking architecture he does would create a fantastic dialog with my sculptures.
What are your ideal conditions for creating? How do you get yourself out of a creative slump?
I just let my mind flow, allow it to be free and curious. It will associate visuals or concepts that pop to create fresh ideas. My brain works super-fast, it is a very visual and organic process. It is quite evident to me.
In case of creative block, I need to rest well and be bored. Sometimes, when I need more inspirations, I try to take time off and do nothing: it is very rare, but it can help ideas to pop up in my mind.
If you could go back in time and speak to your younger self, what advice would you give him?
Don't work only for exposure, it is a pointless joke: everything has to be a balanced exchange. If you are approached by a billionaire or big corporations, and they ask you to work for free because 'it is good for you', tell them to talk to someone else.
What project are you most proud of?
Overall, I think I am very proud of my sculptures and the unique identity I created around my work.
I am particularly excited about my next project with Artcurial in Paris: I will have a very exclusive auction sale of some of my most iconic archives. We selected pieces that were emblematic in recent pop culture, worn by some of the most creative and innovative performers you can find. We also picked some items that were displayed in famous cultural spaces, such as the V&A, the Fondation Cartier, the Centre Pompidou, the Palais de Tokyo... It's mega.
It is a weird feeling to let them go, but I am so happy to give them a new chapter in the hands of the public.
What's been your biggest failure and what did it teach you?
I really learned to take time for myself, even if it's not much. The body needs some rest: working in an exhausting environment will kill your ideas at some point. Reset and refresh. Also, always express what you like and be direct. It is okay and necessary to compromise sometimes, but only if there is an understanding and if you know that the result will work out and be worth it.
Can you talk us through your creative process?
It is a long, expensive and rare process. I researched and managed to create unique techniques behind all my sculptures made out of human hair: I draw, I make, I try, I explore. Things evolve until I find the best way to realise what I imagined. It is also very creative: I do a lot of testing to reach the perfect result, this technicality is part of my signature.
What is your favourite beauty trend right now?
For myself, I personally love Ambuja skincare at the moment. For my clients it is more about hair products. I am currently obsessed with L'Oréal Professional's Metal Detox and Studio 9. And my customers are too. The best beauty tip I can give you is drinking a gallon of water every day. It has changed my life.
How has your understanding of beauty changed over time?
It hasn't changed much: scientists behind beauty brands make products always easier and better for us to use, which is amazing. I would love to find a brand with better sustainability, with little to no waste. I haven't found one yet that can offer a mix of the high technicality my level of work requires and a real environmental solution. So, I am still waiting for one to launch.
What do you turn to for comfort?
I listen to Sleep by Max Richter.
What are you obsessed with right now?
Designing costumes for ballet. At the moment, I am working on a new upcoming production with Les Ballets de Monte- Carlo in Monaco. The ballet is choreographed by Jeroen Verbruggen and the set design will be signed by Wolfgang Menardi. I am really looking forward to this collaboration as it is very creative and avant-garde. I am very excited to see it all come together.
Can you tell us more about your upcoming projects?
There are so many exciting projects that are in development at the moment. I am currently working on a new piece for the Ballet in Monaco as I mentioned. I also am doing the art direction and costume design for a cabaret number in Miami, which will have its debut at the end of this year.
Some of my work also has been selected to be presented in an upcoming exhibition at the Musée des Arts Décoratifs in 2023, which is very exciting.And of course, there is the auction sale at Artcurial, which will be preceded by an exhibition installed in their space at the Champs-Elysée. The showing will be open to the public prior to the sale during Paris Fashion Week this month.

There will be Blonde Lips, but also some other iconic pieces, such as my Lion Mane's inspired suits - that were worn on amazing collaborations such as the LIB ballet choreographed by Ekman-, fluorescent hair creatures from the abyss, or even a dress made of 30,000 hand-embroidered nails.
INFORMATION
artcurial.com (opens in new tab)
Mary Cleary is the Beauty & Grooming Editor of Wallpaper*. Having been with the brand since 2017, she became an editor in February 2020 with the launch of the brand's new beauty & grooming channel. Her work seeks to offer a new perspective on beauty, focusing on the pioneering personalities, product designs, and transformative trends within the industry.