Igor Pjörrt: Wallpaper* Next Generation 2021
Our Next Generation 2021 showcase shines a light on 21 outstanding graduates from around the globe, Wallpaper's pick of the best new talent in seven creative fields. Here we profile Igor Pjörrt, photography graduate of ECAL, Lausanne, Switzerland.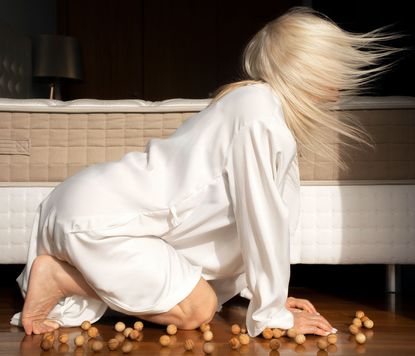 (Image credit: Igor Pjörrt)
Pjörrt's ongoing series, Apartamento – which means both 'apartment' and 'separation' in Portuguese – centres on living spaces and the transformations that occur within them. The Madeira-born, Paris-based photographer draws parallels between the evolution of homes and the shifting of gender identities. 'Such is the experience of inhabiting a body, fluctuating from one state into another and disposing of baggage to accommodate for new visions.'
Pjörrt's practice recognises the essential support of others. The photographer's mother joins in playful acts that at once reference the family's oscillating fortunes and her role as a safe port in a tumultuous world. Apartamento, is a reflection of its moment, offering a glimpse into the inner worlds of Pjörrt and family members as they find themselves confined in their apartment during the pandemic. Through the unusual series of images, Pjörrt offers a timely meditation on the intermingling of gender, sexuality, race, class and domesticity.
INFORMATION
Sophie is currently Photography Editor at Wallpaper*. Sophie joined the team following the completion of her photography degree in 2018, and works with Photography Director Holly Hay, where she shoots, commissions, produces, and writes on photography. Alongside this, she continues her art practice as a photographer, for which she was recently nominated for the Foam Paul Huf Award. And in recognition of her work to date, Sophie was nominated by the British Journal of Photography for the Futures photography platform in 2021.
With contributions from