Ioanna Sakellaraki: Wallpaper* Next Generation 2021
Our Next Generation 2021 showcase shines a light on 21 outstanding graduates from around the globe, Wallpaper's pick of the best new talent in seven creative fields. Here, we profile graduate of Royal College of Art, London, Ioanna Sakellaraki.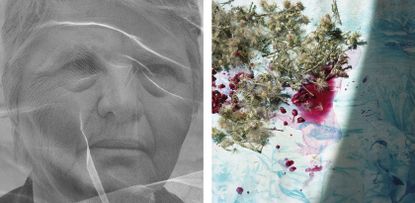 (Image credit: Ioanna Sakellaraki)
Following the death of her father four years ago, Ioanna Sakellaraki returned to her homeland of Greece and began The Truth is in the Soil. As part of own grieving process, she explored her mother's grief in relation to their country's social and religious norms, before expanding her research to traditional mourning rites. She was particularly drawn to the ritual laments of the last professional mourners in the Mani peninsula of Greece, an area known for its breathtaking scenery.
Families would hire these women to passionately lead in lament at funerals, offering both emotional release and a celebration of life. Sakellaraki explains how mourning as a profession dates back to ancient times, with roots in Greek tragedy. It is now, as it were, a dying art.

Sakellaraki's work highlights the ways in which memory and grief go hand in hand. She also explores the connection between professionally performed emotion and photography, as an image often captures a staged moment. Whether impulsive or deliberate, an act is manipulated the moment it is photographed, turned into a scene to be viewed like theatre. She concludes, 'Greece is a constant inspiration and encounter in this work, but the way it is depicted is imagined.'
INFORMATION
Sophie is currently Photography Editor at Wallpaper*. Sophie joined the team following the completion of her photography degree in 2018, and works with Photography Director Holly Hay, where she shoots, commissions, produces, and writes on photography. Alongside this, she continues her art practice as a photographer, for which she was recently nominated for the Foam Paul Huf Award. And in recognition of her work to date, Sophie was nominated by the British Journal of Photography for the Futures photography platform in 2021.
With contributions from