Olivia Joan: Wallpaper* Next Generation 2021
Our Next Generation 2021 showcase shines a light on 21 outstanding graduates from around the globe, Wallpaper's pick of the best new talent in seven creative fields. Here, we profile graduate of Parsons School of Design, New York, Olivia Joan.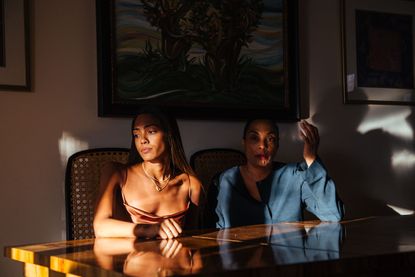 (Image credit: Olivia Joan)
Olivia Joan's joyful portraiture of her female relatives challenges negative stereotypes of Black women and pays tribute to Black matriarchy.

Joan spent years making her family feel at ease in front of the camera and this is a lifelong project. As life begins and ends for members of her family, Joan creates portraits along the way. She is especially proud of her portrait of her grandmother (Joan B Johnson, co-creator of the first Black-owned company to be publicly traded on the American stock exchange), who has since passed away.
While her subjects are mostly directly engaged, regal in their strength and stature, in others there are moments of resistance and tension, as in portraits of her sister and mother taken immediately after an argument. In one image, Joan's mother perches edgily on her seat, aware of a large ham in the back of the frame that needs preparing for a family gathering.

Joan says that the best images often happen while she is setting up her lens and her family are most relaxed. All pretence falls away in these images, and as a viewer it feels like we've been let in on a family secret.
INFORMATION
Sophie is currently Photography Editor at Wallpaper*. Sophie joined the team following the completion of her photography degree in 2018, and works with Photography Director Holly Hay, where she shoots, commissions, produces, and writes on photography. Alongside this, she continues her art practice as a photographer, for which she was recently nominated for the Foam Paul Huf Award. And in recognition of her work to date, Sophie was nominated by the British Journal of Photography for the Futures photography platform in 2021.
With contributions from