Eco conscience: Vibha Galhotra's creations comment on New Delhi pollution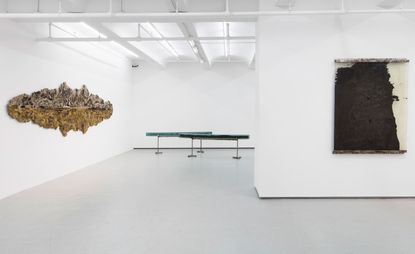 (Image credit: The artist and Jack Shaiman Gallery)
While it's certainly the norm for world leaders to call attention to dire environmental issues, New Delhi-based artist Vibha Galhotra (opens in new tab) addresses similar concerns in her compelling oeuvre, which is currently on view at Jack Shainman Gallery (opens in new tab) in New York City. Titled 'Vibha Galhotra: Absur-City-Pity-Dity', the exhibition focuses on the heavily polluted Yamuna River, considered one of the world's most contaminated rivers as well as on severe urban sprawl through video, sculpture, tapestry, photography and installation art.

'Vibha's work is haunting as she reveals in a very real way the erosion related to that river as well as the extreme overcrowding in so many of India's cities, yet at same time marked by sheer beauty,' says Shainman. 'Her work is a kind of visual reportage and document along with a meditative statement all at once.'

Even the materials Galhotra uses directly reference the river. For her 2015 installation project 365 days, she collected river sediment in approximately three hundred and sixty five small glass vials accompanied by both photographs and message related to the river. Elsewhere are swathes of white cotton which when drenched in the river have turned to a morbid black, which she then encases in resin.

Then Galhotra's complex tapestry Majanu ka tilla, is composed of ghungroos, small metal bells worn by women in traditional Indian dance. Arranged in an amorphous shape, the composition is crowded, almost claustrophobic speaking of the increasing density of cities.

'I know of no other artist who conveys such a powerful message' says Shainman.
INFORMATION
'Vibha Galtrova: Abur-City-Pity-Dity' iruns until 5 December
Photography courtesy of the artist and Jack Shaiman Gallery
ADDRESS
Jack Shainman Gallery (opens in new tab)
513 West 20th Street
New York
VIEW GOOGLE MAPS (opens in new tab)