Ursula Schulz-Dornburg at The Lichfield Studios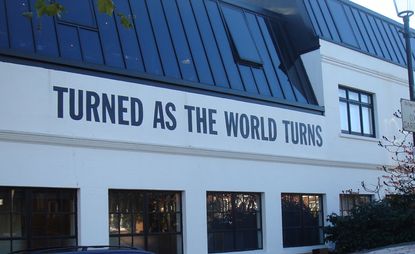 (Image credit: TBC)
The photographs of British aristocrat Patrick Lichfield and Dusseldorf-based Ursula Schulz-Dornburg couldn't be more different; the former immortalized sixties glamour with his pictures of models, royalty and pop stars, while the latter epitomizes the intellectual, landscape-focused German school, spearheaded by the likes of Hilla and Bernd Becher and their water towers. But thanks to a renovation by French architect Jean Michel Wilmotte and the arrival of dynamic young curator Tristan Hoare, both photographers are to go on show - though not at the same time - at Lichfield Studios, west London's newest gallery space.
The former garage was Lichfield's studio from 1984 until his death in 2005, at which point Wilmotte snapped up the space, and converted upstairs into his London HQ and pied-a-terre, and downstairs into a gallery. With input from Wilmotte and Hoare, the space will host three to four exhibitions a year of artists little seen in the UK.
For her first show in this country, Hoare has selected Schulz-Dornburg's images of ancient Spanish chapels that line the medieval pilgrimage route from Barcelona to Santiago de Compostela, and desert landscapes in Iraq, from a portfolio which spans 40 years and covers the globe. Now in her 60s, Schulz-Dornburg was part of New York's conceptual art scene in the 50s, where she befriended Lawrence Weiner.
Hoare called on him to provide a work for the exterior of the gallery which reads: 'Turned as the World Turns,' and which has caused dismay to many local residents. 'They thought it was some sort of advertising slogan,' says Hoare, 'but it's a reflection on the passing of time which is the theme of the show.'
ADDRESS
The Lichfield Studios
133 Oxford Gardens
London W10
Emma O'Kelly is a contributing editor at Wallpaper*. She joined the magazine on issue 4 as news editor and since since then has worked in full and part time roles across many editorial departments. She is a freelance journalist based in London and works for a range of titles from Condé Nast Traveller to The Telegraph. She is currently working on a book about Scandinavian sauna culture and is renovating a mid century house in the Italian Lakes.