Ursula Hauser's female-focused art collection appeals to our darker side
An edgy all-women exhibition at Hauser & Wirth Somerset explores the anatomy of the Swiss art maven's private collection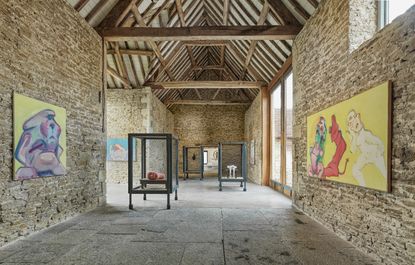 (Image credit: Ken Adlard)
Ursula Hauser is a woman of devotion. Hailing from Gossaul in eastern Switzerland, she has moved house only 'two or three' times in her life, and always within the canton of St Gallen. For the past 35 years, the co-founder of Hauser & Wirth – which she established in 1992 with her daughter Manuela Wirth, and son-in-law Iwan – has been living in a Bauhaus building near Uzwil on the river Thur, quietly amassing a private collection of late 20th-century modern masters and contemporary art with a strong female bent.

Coinciding with her 80th birthday, a new exhibition at Hauser & Wirth Somerset presents works by 11 women artists from the self-made retail magnate's 'deeply personal' collection, among them Louise Bourgeois, Heidi Bucher, Sonia Gomes, Maria Lassnig, Lee Lozano, Meret Oppenheim, and Alina Szapocznikow. Curated by Manuela together with Laura Bechter, curator of the Ursula Hauser Collection, the survey 'Unconscious Landscape' explores the long-lasting relationships Hauser formed with these artists, and the challenging – and at times disturbing – works that shape her daring collection.

The gentle-spoken Swiss art maven did not always bear a charmed life. Hauser was born in 1939, three weeks before the Second World War broke out. Her mother was a professional seamstress, while her father was serving in the army as a driver to high-ranking officials. Hauser's entrance into the world was fraught, surviving a threatening case of pneumonia at six months old during a time before antibiotics and penicillin existed.
At 19 she became engaged to Albert Hauser, and was married in 1961, at 22 years old. Her husband died unexpectedly following a short illness in 1973, leaving to her raise three young children – Manuela, the oldest, was just ten. After his death, Hauser took over his role in the rental-purchasing business he had established with her father, and went on to build a Swiss wholesale business empire with her family that included household appliances and electronics brand Fust.

It's little wonder then, that existential issues of birth, death, motherhood, loss, and longing punctuate many of the works in Hauser's collection – an 'unconscious' reflection of her own personal trajectory, as the exhibition title suggests. The 'most profound moment' in her mother's life as a collector, notes Manuela, came after her first visit to Bourgeois' Brooklyn studio. Hauser had encountered the late French-American artist's work at the 1993 Venice Biennale and her work Legs (1986) – the final work on display in Somerset – remains a prominent fixture in the collector's home today. It's only fitting that Bourgeois works open and close the exhibition: a subset of her Cell series hold court with Maria Lassnig's visceral paintings in the Threshing Barn.

Elsewhere in the Rhoades Gallery, a steel Bourgeois spider looming imposingly over Lozano paintings from the artist's Tool Paintings series among other works by Carol Rama and Alina Szapocnikow. 'For people of my generation, it was impossible to let on that you were vulnerable,' Hauser tells Bechter in The Inner Mirror, a book of interviews with the art collector published to coincide with the UK exhibition. 'You would never reveal the reflections on your inner mirror. That was a sign of weakness and then you have been lost. And that is exactly what Louise's work shows. Her art creates a space where that can be expressed.' (Bourgeois' eponymous late-1960s bronze sculpture, Unconscious Landscape, also lends its name to the exhibition).
One gallery in the Carmody Groarke-designed exhibition is devoted to a solo presentation of realist paintings by Sylvia Sleigh, with whom Hauser forged a bond during her visits to New York, where the Welsh-born artist resided from the early 1960s. Following Sleigh's death in 2010, Hauser purchased the house she had so often visited, restoring many of its original features and preserving the once-overlooked artist's legacy by installing her paintings. The final room in the exhibition focus on textile-based works, from a constellation of Sheila Hicks' vibrant 'memory' bundles, to mixed media works by Carol Rama and rarely exhibited reliefs by Eva Hesse.

The Somerset show comes at a watershed moment. Jenny Saville set an auction record for the most expensive living female artist in 2018, after an eight-way bidding war at Sotheby's propelled the final price to $12.4m. Earlier this month, art dealer Robert E Mnuchin paid $91.1m for Jeff Koons' stainless steel sculpture Rabbit at Christie's. Consider the artists who round out the five highest sums fetched by living artists at auction: David Hockney (Portrait of an Artist, $90.3m), Koons again (Ballon Dog (Orange), $58.4m), Gerhard Richter (Abstraktes Bild, $46m), and Cui Ruzhuo (The Grand Snowing Mountains, $39.6m). In 2019, the gender 'gap' could only be described as a chasm in the art world.

But Hauser was collecting the work of women artists long before the debate on gender disparity or the #MeToo movement dictated the art market, and as this all-female exhibition resoundingly demonstrates, is that they are able to match their male counterparts, in every sense. Hauser's first work of art – purchased for 800 francs by an 18-year-old Hauser still studying textiles – was a fired clay sculpture by Rhine Valley artist Meinrad Zünd. It depicts the negative and positive of two people – 'when you fold them together, they become a couple, a couple in harmony'. In a similar vein, the Ursula Hauser Collection is dark, though not necessarily cynical; feminist, but not didactic; risky, but not aimless – a thought-provoking collection of two sides, folded together in harmony.