Last chance to see: Tomás Saraceno's subterranean Cisternerne takeover
In the concrete depths of Copenhagen's Cisternerne, the Argentine artist's latest installation is dazzling, ambitious and accessible only by boat (until 30 November 2021). Come aboard our virtual tour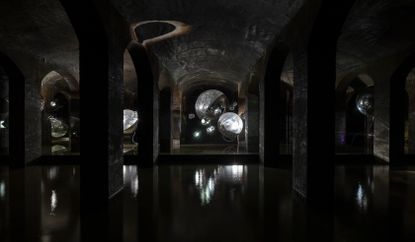 (Image credit: Torben Eskerod)
The Cisternerne, located under Copenhagen's Søndermarken park, is among the most unconventional exhibition spaces around. Once a subterranean reservoir that supplied drinking water to the Danish capital, the 4,320 sq m space is perennially cold, damp and devoid of daylight; a world away from the leafy expanse above.
Each year, a different artist or architect is tasked with devising an installation among the vaulted concrete ceilings and brick colonnades, marshalling the mysterious setting to present an experience that is truly one-of-a-kind: whether a labyrinthe of cedar walkways, a cacophony of Tibetian singing bowls, or even a toilet at the end of the world.
For its 2020 show, the Cisternerne has turned to Argentine artist (and erstwhile Wallpaper* guest editor) Tomás Saraceno. No stranger to ambitious projects, Saraceno decided to flood the venue with some 1.4 million litres of water; less than ten per cent of its original capacity, but enough to require that viewers navigate the show by boat. Clustered into groups of five, they are asked to paddle themselves around, avoiding the use of light sources through their 45-minute journey. These parameters force a dramatic shift in perspective, so much that the usual Saraceno artworks – illuminated spiderwebs, geometric clouds, floating metallic orbs and sculptural assemblages that evoke constellations – all take on a new light. Just as the pieces themselves dazzle, so do their shadows, thrown against weathered surfaces that stand in contrast to their sleek forms.

Asked to take a vow of silence during their visit, viewers are inevitably more attuned to the sounds of their oars in water, amplified by the unique acoustics of the Cisternerne (it has a reverberation time of 17 seconds) as well as an underwater microphone. Likewise, while Saraceno's sculptures may appear celestial and timeless, their reflections on the water surface are constantly disturbed by ripples generated by the movement of boats. These too are part of the intended experience. Throughout his career, the artist has called on his audience to reevaluate the consequences of human actions and establish a healthier relationship with the environment. Here, this call to action has found strong visual and audible form.
RELATED STORY
The exhibition title, 'Event Horizon', derives from an astrophysical term that describes the point of no return – when the pull of gravity makes it impossible for an object to escape a subsuming black hole. Saraceno believes that we're arriving at the event horizon to address our current climate emergency, and to survive, we would need a revolution in behaviour. A video piece towards the end of the show, Living at the bottom of an ocean of air, suggests a way forward. It shows the Argyroneta aquatica, a species of spider that survives underwater despite a lack of gills. Using a few threads of silk, the spider creates a diving bell between its abdomen and legs, which becomes its oxygen supply. For Saraceno, Argryoneta aquatica is 'an invitation for biospeculation'. A reminder that solutions to the greatest problem of our time may lie among the humblest creatures around us.
This is an extended version in an article from the May 2020 issue of Wallpaper* (W*254) – now on newsstands and available as a free PDF download here
INFORMATION
'Event Horizon' at the Cisternerne, Copenhagen, runs until 30 November 2021. cisternerne.dk; studiotomassaraceno.org
TF has been editor of Wallpaper* since December 2020. He is responsible for our monthly print magazine, planning, commissioning, editing and writing long-lead content across all our content pillars. He also plays a leading role in multi-channel editorial franchises, such as our annual Design Awards, Guest Editor takeovers and Next Generation series. He aims to create world-class, visually-driven content while championing diversity, international representation and social impact. TF joined Wallpaper* as an intern in January 2013, and served as its commissioning editor from 2017-20, winning a 30 under 30 New Talent Award from the Professional Publishers' Association. Born and raised in Hong Kong, he holds an undergraduate degree in history from Princeton University.
With contributions from