Tom Sachs' NFT Rocket Factory scoops Wallpaper* Design Award 2022
Tom Sachs' brilliantly imaginative Rocket Factory marks the American artist's foray into the world of NFTs, and scoops 'Best Rocket Launch' at this year's Wallpaper* Design Awards 2022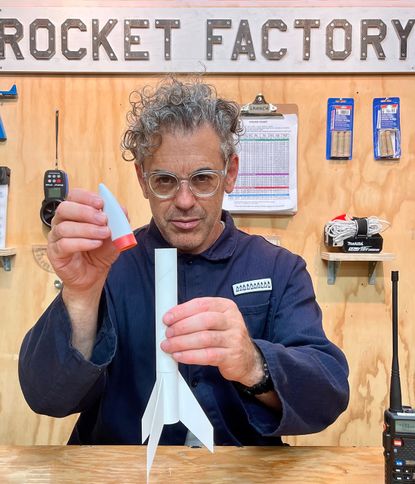 (Image credit: TBC)
Tom Sachs is art's astro-conceptualist, a Nasa obsessive who has devised and equipped his own bricolage space programme. His New York studio is both rocket workshop and mission control, stitching together spacesuits and knocking up landing modules, perfectly imperfect replicas in steel, plywood and foam that celebrate the design and engineering 'right stuff' that has taken man to the moon, if not far beyond. (Because he can, Sachs has gone further. In 2012, he put astronauts on Mars and in 2016 he explored Europa, an ice-gripped moon of Jupiter). His latest exploration of the rocketeer mythos, Rocket Factory, launched him into the art world's next digital dimension, NFTs (non-fungible tokens). Sachs calls the project a 'trans-dimensional manufacturing plant' that creates branded NFT rocket parts.

Rocket Factory has created enough virtual inventory of nose cones, bodies and tail assemblies to produce 1,000 different rockets. Each component features one of 30 different colourways and brand identities, with varying degrees of scarcity (87 sets are Chanel branded, 27 McDonald's and three Hello Kitty). Space travel, after all, is now a fully commercial enterprise. One hundred of the 3,000 components feature stickers, again of varied rarity.
There are more than 113,000 possible component permutations, and collectors – or the 'community' as Sachs has it – can create a multi-brand Frankenrocket or a mono-brand Perfect Rocket. (Sachs admits that the mechanics of his rocket marketplace are arcane to the point of absurdity. 'It's byzantine and prohibitively complex. It's without a doubt the Achilles' heel of the whole thing, completely fucked.')

These components are 'com-burned' before the minting of a new single rocket. Collectors can then select Launch Option, which scrambles Sachs and his team to create a physical replica of the digital rocket in the 'meat world'. The physical rockets are launched and, if at all possible, component parts are recovered and returned to the collector in a custom display box, along with a video of the launch. There have been seven launches so far, including one at Governors Island in New York, another at Flamingo Park baseball stadium in Miami – which Sachs rented out for the occasion – and one on the corner of Grand and Lafayette in SoHo, which Sachs describes as 'our secret spot'.
Owners of a completed rocket NFT or component can become members of the Rocket League and get their own Rocket Factory uniform. Sachs is now looking at establishing a digital Rocket Factory HQ, somewhere in the known or unknown metaverse, with special access clearance for Rocket League members.

Rocket Factory is another expression of Sachs' fascination with the ambition, engineering, aesthetics and semiotics of the space programme. 'Rockets are a complex symbol because they're the symbol of our total destruction, but also of our redemption,' he says. 'They're the ultimate symbol of science. And there's nothing more prestigious. Rockets hold us to the highest standards of excellence.'

It's also a challenge to the accepted models of art sales, ownership and collecting. NFTs, Sachs argues, represent a new largely unregulated, unprivatised, vital and shared creative space; a new frontier, less mapped, patrolled and controlled by art's traditional gatekeepers and power brokers. For Sachs, digital space still has utopian promise, and he is determined to both explore and protect that potential. 'NFT culture is DIY culture,' he says. 'Not since 1987, when I was exposed to the American hardcore punk scene, have I felt a greater sense of community and generosity. My strategy is just to do the best work I can in the space. That's all we can do.'
INFORMATION
Wallpaper* Design Awards 2022 winners feature in the February issue of Wallpaper*. Subscribe today!
Receive our daily digest of inspiration, escapism and design stories from around the world direct to your inbox