Tom House: Michael Reynolds explores Tom of Finland's living museum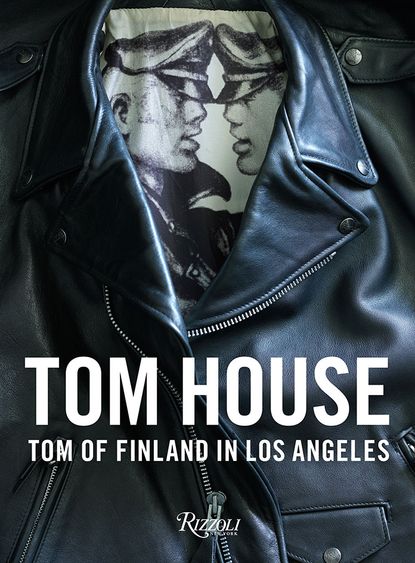 (Image credit: Design by Hoffman Creative)
At first glance, the four-floor Craftsman-style house at 1421 Laveta Terrace looks like the kind of perfect fixer-upper that would be snapped up by the kinds of cashed-up creative types flocking to Los Angeles' Echo Park neighbourhood. But this wholesome looking 106-year-old house, situated behind a manicured evergreen hedge, is a shrine to desire of a distinctly non-real estate kind.

Tom House, as its become known, was the erstwhile home and workplace of renegade Finnish artist Touko Laaksonen, perhaps the most influential homoerotic artist of the 20th century (as featured in W*188). Now home to the Tom of Finland Foundation and the team who faithfully administer it, the property has been immortalised for the first time in Tom House, a deluxe new volume from Rizzoli, published 8 March.

Tom died in his native Finland in 1991, but his work and legacy have continued to flourish due to the indefatigable efforts of the foundation and its founder Durk Dehner, an Auntie Mame in leather who owns and oversees this sprawling paean to the libidinal. (With more than 3,500 artworks and 100,000 documents, images and items of memorabilia, it's the world's largest repository of erotic art). Dehner first encountered Tom's drawings in the late 1970s, a moment which changed the course of his life and led to the establishment of the home and foundation. 'The mission of the foundation is really to carry on Tom's legacy, which is all about having a healthier, more natural way of looking at sexuality. We think sexuality doesn't stop when you leave the bedroom,' says Dehner.

The book itself – the vision of creative director and Wallpaper* US editor Michael Reynolds – reflects the property's idiosyncratic, wildly collaborative spirit. 'The moment I discovered the house some 20 years ago, I was entranced,' says Reynolds. 'I have always been captivated by provocation and things that lurk in the shadows of mainstream culture. Tom House is like a living, breathing commune – the very opposite of a dead artist's museum. It was just a matter of waiting for the zeitgeist to be ready for this project.'

Lavish interior photographs by Martyn Thompson provide an intimate glimpse into the rambling 17-room house and its surrounds. There's the crepuscular dungeon, with its myriad leather toys; Tom's Room, an attic eyrie where the artist would sequester himself, chain-smoking cigarettes whilst working on collaged reference pages, sketches and preparatory drawings (many of which appear in print for the first time in Tom House); and the terraced, cheekily named Pleasure Park, which promises house guests the opportunity for alfresco assignations.

Rounding out Reynolds' creative dream team is journalist and critic Mayer Rus, who contributed the book's fascinating foreword. Rus places Tom of Finland and its home within a wider fine art context and captures the property's sui generis nature. 'Tom House has always been a welcoming gathering place; it's a safeplace, a sensibility and an almost spiritual experience given the amount of artwork that is guarded here,' says Dehner. Ultimately, it's a destination best experienced on the page or in person: part frathouse, part bunker of Bohemia, part noncomformist bulwark. At Tom House, pleasure is always a moral imperative and life itself is a form of activism.
INFORMATION
Tom House is published by Rizzoli (opens in new tab), $55. For more information, visit the website (opens in new tab); Instagram: @tominlosangeles (opens in new tab)

A book signing for Tom House: Tom of Finland in Los Angeles will take place on 12 March, 4-6pm at David Kordansky Gallery
ADDRESS
David Kordansky Gallery, 5130 W, Edgewood Place, Los Angeles, 90019
VIEW GOOGLE MAPS (opens in new tab)