Tom Bianchi's sun-drenched Polaroids capture the halcyon days of Fire Island Pines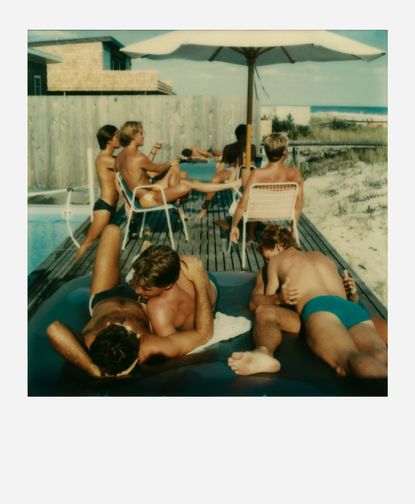 (Image credit: Tom Bianchi)
Bulging Speedos, tight Levis, tanned torsos and hosepipes galore: Tom Bianchi's Polaroids capture summer sexiness through the eroticised male body.

Bianchi – a photographer and writer from suburban Chicago who has published more than 20 books of work – began visiting Fire Island Pines in the 1970s, where he snapped gay couples cavorting on vacation on his Polaroid SX-70 camera.

It was the beginning of a queer consciousness in America, but the general public wasn't ready for it, yet. Bianchi's Polaroids, shot between 1975 and 1983, were taken at a time when homosexuality was still illegal across the US. Soon after, the AIDs epidemic swept the country, and Bianchi's works stayed in boxes for 30 years.
Fire Island Pines in New York, a hamlet of 600 houses lining the coast, was one of the few safe spaces for gay men in the US at the time. Former male model John B Whyte popularised the Pines as a gay destination after he acquired the Botel Pines complex in the 1960s and turned it into a gay-friendly resort.

In the halcyon days of the Pines – described by Bianchi as 'magical' – more than 10,000 gay men would spend the weekend there, and Bianchi was a regular, attending at events such as Whyte's famous 'tea dances' and bacchanals. He was also a guest at houses, and his poolside Polaroids are some of the most captivating shots he took on Fire Island.

'In the Pines, my dreams of being an out gay man and artist became possible.' Bianchi says. Yet Bianchi's respect for his subjects' is clear – many of the images do not show their faces, protecting their identities. Instead, the focus is the gestures of sensuality, athleticism, and tenderness expressed by the body.

In 2013, Bianchi's collection of pictures of the Pines community was published, together with a memoir. Now, the original photographs are also on public view for the first time – some four decades after they were taken – at Throckmorton Fine Art, New York, paying homage to a time and a place when queerness was the quintessence of summer.
INFORMATION
'Fire Island Pines: Polaroids 1975-1983' is on view until 16 September. For more information, visit the Throckmorton Fine Art website (opens in new tab)
ADDRESS
Throckmorton Fine Art
145 E 57th Street
New York
Charlotte Jansen is a journalist and the author of two books on photography, Girl on Girl (2017) and Photography Now (2021). She is commissioning editor at Elephant magazine and has written on contemporary art and culture for The Guardian, the Financial Times, ELLE, the British Journal of Photography, Frieze and Artsy. Jansen is also presenter of Dior Talks podcast series, The Female Gaze.