Home from home: James Rosenquist at the Judd Foundation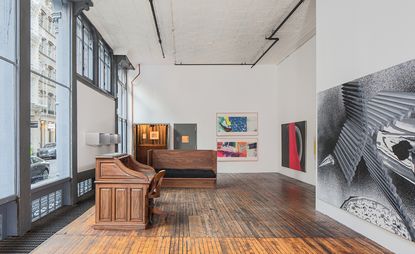 (Image credit: Sol Hashemi)
The sparse setting of minimalist sculptor and conceptual artist Donald Judd's Soho studio and home, filled with iconic works dating from the 1960s and on, may seem an unlikely spot to showcase monumental paintings by a leader of the pop art movement. However, with the Judd Foundation's new 'James Rosenquist' exhibition, five Rosenquist paintings and lithographs perfectly complement the cast iron building, built in 1870.

Judd was hardly a stranger to Rosenquist; they were not only neighbours, but they also shared the same dealer, the acclaimed Leo Castelli. Judd's famed art collection included work by Rosenquist, Warhol and Lichtenstein, so pop was very much a part of his psyche.

Commanding centre stage is Rosenquist's 1992 acrylic and oil Time Dust – Black Hole, which is a staggering 35 feet in length, with a grey, diamond dust-like background accented by lined up pencils, a soda can and even a satellite. Placed directly opposite is Judd's own Victorian desk as well as classic designs, like his copper coffee table.

Close by is Rosenquist's quixotic 1966 oil Yellow Applause. Cleverly concealed is a mechanism which, at the push of button, effortlessly slides the two-panelled canvas apart.

Flavin Judd, the Judd Foundation's co-president and curator, doesn't see the placement of Rosenquist's oeuvre in his father's studio as peculiar. 'Art and architecture, both dealing with space, influence and effect each other. If a room or building is well designed the art looks better and is stronger, has more of a presence,' he explains.
INFORMATION
'James Rosenquist' is on view until 6 August. For more details, please visit the Judd Foundation's website (opens in new tab)

Photography: Sol Hashemi. Art © James Rosenquist
ADDRESS
Judd Foundation
101 Spring Street
New York, NY 10012
VIEW GOOGLE MAPS (opens in new tab)