The Barbican's latest show opens the doors to artists' cabinets of curiosities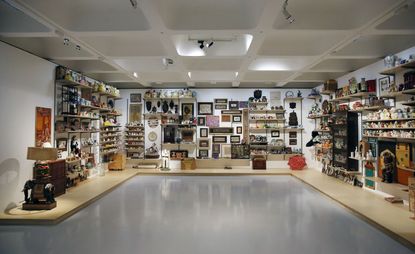 (Image credit: Peter MacDiarmid)
'Magnificent Obsessions: The Artist as Collector', the new show at London's Barbican Centre, is mostly about artists' stuff, their personal collections. There are a few pieces by the artists thrown in, to offer context you suppose, but mostly it is a show about stuff.

With the Stuffocation-led anti-stuff movement in full swing, there was hope that the show might prove a rousing defence of stuff: the collection of stuff, stuff as inspirational object, as biographical detail. The fear was that this would be a show full of kitsch ceramics, taxidermy and African masks, the cliched keepsakes of the 20th century creative mind (most of the artists featured here are 20th century, even if they are still working).

It seems that Andy Warhol has collected kitsch ceramics as has Danh Vō, via Martin Wong. And by the shed load. Damien Hirst and Peter Blake both have a thing about taxidermy, of course they do, and the weirder the better. Hirst's collection includes a rabbit born with two bodies in Wales in 1912 while Blake's includes a lamb with a leg on his head and other hybrid-taxidermy.

The show is not without its rewards. Pae White's collection of a 1,000 scarves by American designer Vera Neumann is at least a proper collection, focused and the result of an obvious passion. Hiroshi Sugimoto, an extraordinary collector in the tradition of the 19th century gentleman scientist/explorer, has sent 18th century French and Japanese anatomical prints and books.

Sol LeWitt's display is fine, featuring Japanese prints he picked while serving in Korea with the US army, black and white modernist photography, and musical scores from Philip Glass and Steve Reich. There are also a 1,000 pictures he took of the objects in, and architectural details of, his Manhattan loft. But this feels second-hand. LeWitt saw their value and collected them in his 1980 photo book Autobiography.

Martin Parr's collection of postcards is fun, as you would expect, as is the display of Jim Shaw's thrown away thrift store paintings. And Hanne Darboven's haul from the family home in Hamburg is the most fabulous junk store. But it is far from enough. The exhibition, by the way, has been designed by London-based firm Dyvik Kahlen Architects though this design is only occasionally obvious.

Maybe it's just that Magnificent Obsessions suffers by comparison. The show is nowhere near as interesting as Martino Gamper's 'Design is a State of Mind' at the Serpentine's Sackler gallery last year, which did something similar but with designers' stuff. Gamper's show felt much more actively and creatively curated and each collection had something different to offer, a unique insight. Perhaps designers are just smarter about their objects and collect smarter stuff.
ADDRESS
Barbican Art Gallery
Silk Street
London EC2Y 8DS
Receive our daily digest of inspiration, escapism and design stories from around the world direct to your inbox