Light fantastic: Wallpaper* speaks to artist Suzanne Redstone
We sit down with British American artist Suzanne Redstone to find out a little more about her process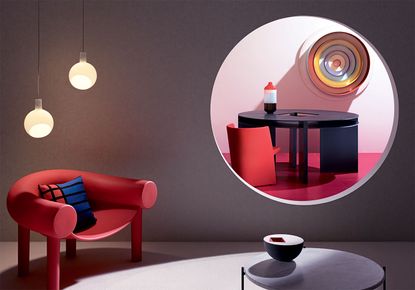 (Image credit: Thomas Brown. Interiors: Amy Heffernan)
Readers who have got their hands on the January issue (W*202) will have seen the work of British American artist Suzanne Redstone gracing the magazine's Space pages in a series of vignettes built around her light-catching sculptures and dimension-busting works.

Redstone has been fascinated by light ever since she started painting the skies from her parent's attic space at 13 years old. She studied at Rhode Island School of design in the 1960s and spent a year in Rome, where she discovered the work of Piero della Francesca, Theo Van Doesburg and Josef Albers, Victor Vasarely and Van Gogh. It was here that she decided to paint strictly with right and 45 degree angles on Masonite board, using only primary colours.

She moved to Pennsylvania in 1968 to complete a Masters of Fine Art at the University of Philadelphia and just two years later relocated to London where she began to work in 3D, creating her very first 'lightcatchers', constructed from stone and steel. In 1974 she moved to Devon, where she is still based today, creating ever more ambitious works in the landscape and built environment. We sat down with Redstone to find out a little more about her artistic process...

Wallpaper*: Can you tell us about your transition from painting to sculpture and what brought about this shift?
Suzanne Redstone: The shift from painting to sculpture started in 1969. The paintings followed a discipline that I had self-imposed in 1966, while I was on a European Honours program in Rome. During that time, I decided to use only right and 45 degree angles alongside primary colours, and black and white. I even set a time limit on myself of four years, as well as a goal of working for a certain number of hours a day and days per week.

One day, over three years later, in my studio during my MFA at the University of Pennsylvania, I painted a thin edge of a painting yellow. I saw that the edge glowed and created a halo of light revealed by the white wall behind it. The amount of light coming off the surface seemed out of proportion to the thin line of colour.

I was intrigued by this and increasingly became interested in the light coming off the painting rather than colour on the two-dimensional surface. I wanted to make visible this ephemeral light, the space between things rather than the things themselves. So my work evolved and I began to create simple sculptures that would allow me to explore this visual experience further. If you look at my Instagram account (opens in new tab), you can see the progression of this work.

How you are inspired to create a new art work?
My work evolves through questions. As questions are resolved more questions are stimulated, which, in turn, leads me to think about new forms. I have always considered my work to be exploring, bringing me to new visual places. Robert Engman, who was co-director of the Art and Architecture Department at the University of Pennsylvania said, 'A piece of art is never a finished work. It answers a question, which has been asked and asks a new question.'

What goes into creating your lightcatchers?
I have a vocabulary of different curves I work with. I create drawings by moving these curves in natural light and photographing the results. Each piece and subsequent drawing help inform the next piece. I use marine grade stainless steel between 2mm and 5mm thick. The large pieces are curved on mechanical rollers.

What was it like working with Wallpaper* magazine on the shoot for the January issue?
It has been a very enjoyable and motivating process. After initial discussion with the team at Wallpaper*, I sent them images of a selection of over 40 years of my work. The team chose the pieces they wished to use and had them collected from our farm. They then took on the challenge of creating the interiors in response to the works. Some of these pieces have never before been seen by the public.

Your work is about capturing the movement and subtleties of light – is this hard to convey in a still photograph?
Yes. I work with something that is so ephemeral and continuously in flux that it is challenging to capture in a photograph. Each visual moment is unique. This opens up an important dialogue with video. On my website, under 'Temporary Works', there are some videos, using both real time and time lapse, which display how a work changes moment by moment.

What other projects are you working on at the moment?
I'm working on some steel and stone sculptures, and a commission for several relief sculptures for a private hotel in central London. I am also getting ready for my first American solo show. It will open at Jessica Silverman Gallery in San Francisco in September 2016 and will premier paintings and drawings that I made between 1966 and 1969, which have never been exhibited before.
INFORMATION
For more information, visit Suzanne Redstone's website (opens in new tab)

Redsone's first American solo show will take place at Jessica Silverman Gallery in San Francisco in September 2016