Sterling Ruby on seeing red in his visceral new paintings and collages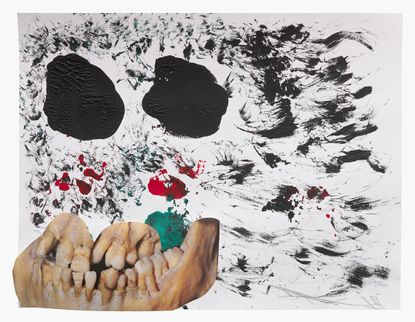 (Image credit: Robert Wedemeyer)
'America is without a doubt on a precipice; we are in a red state,' says Sterling Ruby, the Los Angeles-based artist known for his works made from a never-ending range of media that have dangled from the ceilings of galleries and protruded into the public space at biennials around the world. At his latest two-venue exhibition, opened at his long-time dealer Xavier Hufkens' spaces in Brussels, red is the dominant colour.

In 'DRFTRS', he presents recent works from a series of collages that began back in 2012, and at 'WIDW', (Ruby's acronym for window) he shows a series of oil paintings. 'The colour red has always played a dominant "psychological" role in my colour choices,' Ruby reflects, but 'in these new paintings, the primordial red paint is thick, visceral, volcanic. Perhaps I have been painting with an apocalyptic observation in tow.'
In the US today, no colour is more divisive and political – and in Ruby's work America, its pop culture, politics and its position in the world, is never far from the surface. 'It has always been an undercurrent in my work, and often attribute material and themes to a representation of America,' he affirms.

The two venues present a dyadic perspective: while 'DRFTRS' looks out at the world, incorporating found imagery sourced from Ruby's ever-growing personal archive of 'things I am looking at or thinking about' (including protest posters, horror films, orchids, poppies, skulls, snakeskins and prisons), at 'WIDW', the artist scavenged his material from his own studio, a process he has used in the past.

He has also reflected on art's role in dealing with anxiety and the grim reality of past times. 'I've been looking at a lot of German expressionist painters, Der Blaue Reiter group,' Ruby explains. 'My new paintings reveal how current events visually play themselves out in my mind. I see bars or windows.'

Are we on the outside of those bars, peeking in, or trapped behind them, staring out into the unknown? You'll have to go and see the paintings to find their truths, embedded in the fractious layers of their canvases.
INFORMATION
'DRFTRS' and 'WIDW' are on view until 20 October. For more information, visit the Xavier Hufkens website (opens in new tab)
ADDRESS
Xavier Hufkens
6 and 107 rue St-Georges
St-Joorisstraat
1050 Brussels
VIEW GOOGLE MAPS (opens in new tab)
Charlotte Jansen is a journalist and the author of two books on photography, Girl on Girl (2017) and Photography Now (2021). She is commissioning editor at Elephant magazine and has written on contemporary art and culture for The Guardian, the Financial Times, ELLE, the British Journal of Photography, Frieze and Artsy. Jansen is also presenter of Dior Talks podcast series, The Female Gaze.