Renaissance man: Jan Fabre's sculptural dialogue with Florence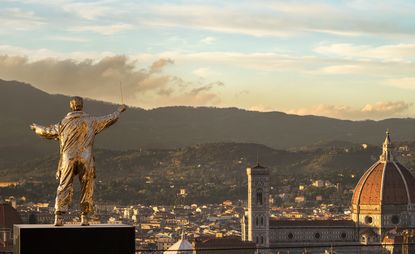 (Image credit: Attilio Maranzano)
This summer and autumn, three impressive locations in Florence – steeped in history and prominent for their centuries-old fine art standings – will be temporarily redefined by the work of Jan Fabre.

In and around the former Medici strongholds of Forte di Belvedere, Piazza della Signoria and Palazzo Vecchio, Fabre builds a rapport with the strong political and religious symbols this cradle of the Renaissance is strewn with, reactivating them through his own work. 'I think I was invited because, to the organisers, I am a kind of contemporary Renaissance artist. I sculpt, I draw, I write, I do solo performances and direct a theatre company,' says Fabre.

Florence gladly reminds itself of its Renaissance spirit, and the relation between Fabre's work and the historical artifacts is touching in its humanity and universalism. Amid the equestrian monuments on the Piazza della Signoria, Fabre's Searching for Utopia – his own likeness perched upon a giant tortoise – emphasises the military bravado surrounding it. Next to Michelangelo's David, The man who measures the clouds, speaks of a wholly different type of idealism.

At the Forte di Belvedere, Fabre's bronze Spiritual Guard sculptures look out over the Florentine valley from their lookout posts; while his iridescent scarab beetle pieces hold their own between the colourful frescoes of the Palazzo Vecchio – his sizeable Globe especially, a striking echo of historical cartography in the Medici Hall of Maps.

A new work performed live on the Piazza – a video of which is shown at the Forte di Belvedere – displayed a completely different idea, that of the artist-as-worm. 'If you remove a worm from the earth, the earth deteriorates,' Fabre explains. 'If you remove the artist from society, society deteriorates.'

Fabre's work, in such an intimate relationship with Florence's landmarks, is set to do the opposite.
INFORMATION
For more information, visit Jan Fabre's website (opens in new tab)
Photography courtesy Angelos Bvba