Middernacht & Alexander's split view on self-image
The Belgian-Dutch duo's exhibition at Barbé-Urbain Gallery delves deep into the psychology of portrait photography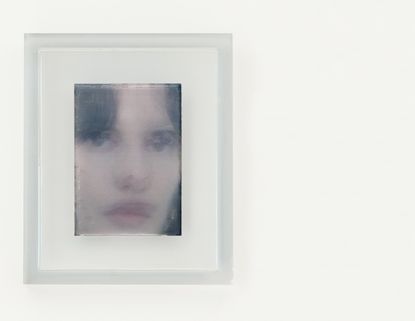 (Image credit: Middernacht & Alexander)
According to Lacan's theories on the mirror stage, as children we become aware of our bodies not only as flesh and blood, but as virtual image – the transformative moment we realise we are subjective, and that we have a peculiar thing called identity. Psychoanalysis has posited all kinds of ideas about the relationship between identity and image, but in the social media age we experience a curious separation of the self: we present ourselves as we would like to be seen.

This habit of influencing the way others see us is a very contemporary condition – something that before the internet we had less control over – and the London-based photography duo Sofie Middernacht and Maarten Alexander well know. Their latest series Am I Ready Now? – on show at Ghent's Barbé-Urbain Gallery until 8 March — explores the uncanny, uneasy sense of a splitting self through portrait photography.

Each work is made up of layers of portraits of the same person. And each layer was deliberately printed at low density so that they can only be seen as a coherent face when arranged together. But each image – although compriseing the same face — creates a different image. It's a more cerebral exploration of Dolly Parton's viral social media challenge that has sent the internet into overdrive and has revealed just how differently we portray ourselves for different viewers. But as the title of the exhibition and the series suggests: will any of our versions of ourselves ever be good enough?

As if to suggest these fractures and fragments between the self and the perception of the outside, the exhibition also includes installations made of glass, plastic, epoxy and rubber, suggesting different kinds of material reflectivity and opacity. Middernacht & Alexander — who are a part of the Wallpaper* family — have worked together since 2016, unusual in photography that is, after all, emphatically the medium of the self. Their exploration of selfhood addresses the uncomfortable role of the camera as a sometimes unkind voyeur, in which the photographer becomes responsible for someone's most intimate part: their self-image.
INFORMATION
'Am I Ready Now?', until 8 March, Barbé-Urbain Gallery. barbe-urbain.com
ADDRESS
Barbé-Urbain Gallery
Penitentenstraat 29
9000 Ghent
Charlotte Jansen is a journalist and the author of two books on photography, Girl on Girl (2017) and Photography Now (2021). She is commissioning editor at Elephant magazine and has written on contemporary art and culture for The Guardian, the Financial Times, ELLE, the British Journal of Photography, Frieze and Artsy. Jansen is also presenter of Dior Talks podcast series, The Female Gaze.