Skystation on the Southbank, Peter Newman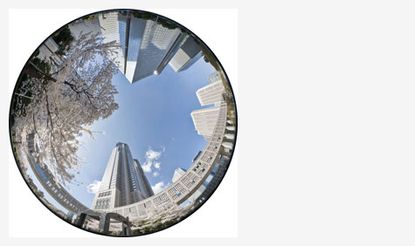 (Image credit: TBC)
Describing Le Corbusier as 'a truly visionary architect', Peter Newman makes no bones about the inspiration for his latest project, 'I was trying to reconnect with the more idealistic, utopian elements of [Le Corbusier's} work…although it didn't always go to plan.'
Taking his ultimate cue from the faultless ergonomic form of Le Corbusier's LC4 Chaise Lounge, Newman's newest piece of public art looks set to bring the crowds on London's Southbank a little closer together this summer, for a big communal sit down.
See more of Newman's Hayward-bound photographs and the Skystation itself (opens in new tab)
The Skystation - a dimpled chromium droplet taking residence outside the Southbank Centre (opens in new tab) – will be the first installment in a range of seating projects planned by Futurecity (opens in new tab), a cultural agency specialising in collaborative projects between artists and urban regeneration programmers.
With an eventual plan to install around 100 Skystations permanently across Britain and around the world, Newman - In collaboration with the Futurecity fixers - hopes to form a veritable 'constellation' of sky viewing points.
Newman's inaugural contribution, the Skystation, was first shown as a prototype at the Venice Guggenheim during the Architecture Biennale, before he was awarded an Arts Council grant back in 2005. The first weather-wearing Skystations then went on to be installed in Trafalgar square, St Mary's Axe and Canary wharf for short stints in the very same year.
Drawing participant's heads together, the circular shape of the Skystation encourages conversation and interaction between fellow 'seatees'. Adorned with a plaque stating 'in loving memory of those about to be born', Newman's dictum that 'to look up, is to look into the future' is made very clear. A gem of upward-looking optimism, the Skystation should only to add to the Southbank's long list of extra-curricular charms.
Accompanying Skystation will be a collection of photographs exhibited in the Hayward Gallery (opens in new tab) café, and Newman's film Free at Last - featuring the artist performing yoga moves whilst sky-diving – will be projected onto the east wall of the Royal Festival Hall.
The photographs, taken by Newman on visits to 17 international cities in the space of 84 days, are produced with the help of a wide-angled-lense, the like of which was originally used in telescopic imaging. Acting as inverse imprints of the Skystation itself, Newman's bug-eyed skyward standpoints offer a refreshing perspective on cities and spaces we have come to know so well.
ADDRESS
Southbank Centre
Belvedere Road
London
SE1 8XX