Frieze LA festivities kick off with a celebration of handcrafted vessels
To have and to hold: the vessel takes centre stage in a new show in Los Angeles, which also highlights the art of ikebana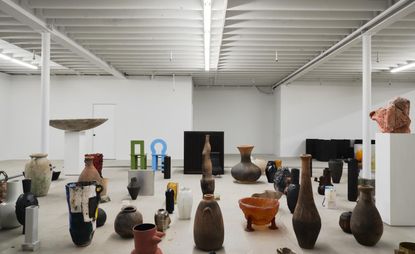 (Image credit: Sized Studio)
'I think everybody has felt rather enclosed recently – whether mentally or physically – and the vessel, as a medium for holding, references that contemporary conversation,' says Sized Studio founder and creative director Alexander May on the theme of his new show opening this week as Frieze LA kicks off.
'Vessels' takes place at Sized Studio's 7,000 sq ft new home in Hollywood. Over 200 vessels are on display, from artists and makers including Alma Allen, Rick Owens Furniture, Commune Design, Jim McDowell, Pia Camil, Grace Prince, Jonny Ribeiro, Kazunori Hamana, The Future Perfect, Donna Green, and Thomas Barger among many more. 'It's an exploration of material and form,' says May. Sized's inaugural exhibition in June 2021 showcased contemporary design objects and celebrated the power of in-person events.
'I'm constantly sourcing, so I had a few things in mind, but of course commissions and additions come along the way,' says May. New works made especially for the exhibition include a large vase by Gaetano Pesce created out of stacked and compacted heart shapes, while Leena Similu, who explores femininity and fertility, is showing a new large-scale vessel alongside several existing smaller works. Musician and multidisciplinary designer Fai Khadra has created a site-specific work at Sized Studio.
There is also a large-scale, site-specific ikebana installation comprising intricate floral work created by Ravi GuneWardena and Tory J Lowitz of the Sogetsu Ikebana Los Angeles branch, the West Coast outpost of the Tokyo-based Sogetsu ikebana school founded by ikebana master Sōfū Teshigahara.
In the exhibition, May expands on the concept of a vessel as a multifunctional object – looking beyond vases and planters to a chair, a cabinet, a table – considering them all structures that hold or contain something. In doing so, he draws a parallel with the boundary-bending approach of Teshigahara.
Sogetsu Ikebana Los Angeles has previously collaborated with artists including Isamu Noguchi, Nikki de Saint Phalle, and Merce Cunningham. Teshigahara was known as a radical thinker in ikebana, rejecting the traditions of the centuries-old craft. 'He was a radical maker – and an enfant terrible – who broke moulds of historical work,' says May. He opened the Sogetsu school in Tokyo when he was just 27 years old. 'Sogetsu's exploration of scale and architecture within space goes hand-in-hand with the vessel's role in design for promising a broad range of possibilities,' says May.
Concurrently, the MatchesFashion booth onsite at the new Frieze LA Wilshire Boulevard location is curated by Alexander May and features 12 further vessels by artists and makers including Jim McDowell, LS Gomma and Ben Medansky.
INFORMATION
'Vessels', 16 – 27 February 2022, at Sized Studio, 526 N Western Avenue, Los Angeles, CA 90004
sized.ltd (opens in new tab)
Tilly is a British writer, editor and digital consultant based in New York, covering luxury fashion, jewellery, design, culture, art, travel, wellness and more. An alumna of Central Saint Martins, she is Contributing Editor for Wallpaper* and has interviewed a cross section of design legends including Sir David Adjaye, Samuel Ross, Pamela Shamshiri and Piet Oudolf for the magazine.