Shepard Fairey calls for unity with street art installation at Eiffel Tower
Shepard Fairey unveils a new street art installation inside the Eiffel Tower, appealing for 'unity'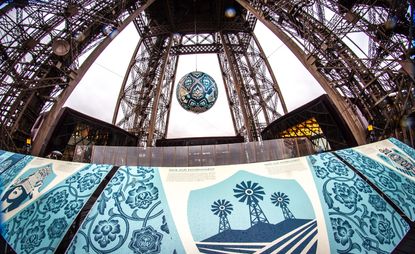 (Image credit: Aline Deschamps)
Unveiled today at the Eiffel Tower, American street artist and environmental activist Shepard 'OBEY' Fairey's Earth Crisis artwork ushers in the upcoming world climate change conference, COP21, and in light of the recent attacks it comes charged with even deeper meaning.

Suspended between the first and second floors of La Grande Dame, the spherical artwork measures eight metres in diameter and is splashed with interlocking mandalas and floral motifs symbolising harmony and cautionary images representing threats to the planet. 'The project now has a greater degree of weight and I don't know if I'm worthy. I hope that looking at how interconnected things are, which is part of the aim of the piece, will encourage unity rather than fear and division,' says Fairey.

Commissioned by the pioneering Paris-based Galerie Itinerrance, also behind the monumental Tour Paris 13 and Djerbahood projects, Fairey's piece is the first street art installation to ever be mounted on the global landmark and ultimate emblem of France.

Fairey first started out designing campaign material for influential environmental groups in the mid-90s and through subsequent subversive and poignant poster campaigns and artworks has prompted critical analysis in the public through street art. 'Essentially I'm trying to fight apathy,' he says.

Instantly recognisable, his accessible and highly stylised stencil (anti-)propaganda art has catapulted him to the top of the list of most celebrated street artists. His work has been shown across the world from the New York MoMa to the Victoria and Albert Museum in London, making him one of the few artists of his genre to blur the line between high-culture and a subculture often dismissed as lowbrow.
INFORMATION
Earth Crisis is on view until 26 November 2015. For more information, visit the Eiffel Tower's website (opens in new tab)
ADDRESS
Champ de Mars
5 Avenue Anatole France
75007 Paris