Thread to thread with Sheila Hicks at Alison Jacques Gallery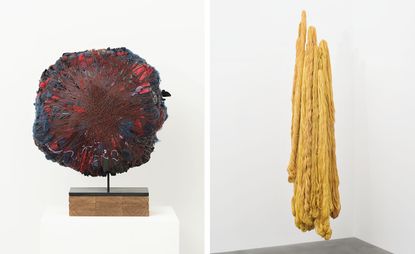 (Image credit: press)
Wallpaper* Newsletter
Receive our daily digest of inspiration, escapism and design stories from around the world direct to your inbox
Thank you for signing up to Wallpaper. You will receive a verification email shortly.
There was a problem. Please refresh the page and try again.
Sheila Hicks doesn't suffer fools gladly – and neither does her work. The 84-year-old American fibre and textile artist weaves 'mistakes' into her intricate miniatures and mountainous soft sculptures, to see who, if anyone, will notice them.

'Usually only children do,' she says, 'because they're not jaded. They look at the work, and see it differently.' Take the new piece Blue Under The Sea (2017), installed at Alison Jacques Gallery in London, as part of her latest exhibition 'Stones of Peace'. A seemingly perfect blue square is packed tight with plaits made of alternating S and Z-shape weaving patterns to create waves of wool, pulled over a linen canvas. Towards the bottom left corner, however, the pattern begins to muddle, like a photograph moving out of focus, distorting the otherwise impeccable construction.
To think these decisions are paltry, only in place trick us, would be missing a fair whack of Hicks' genius. Instead, she piles even the smallest decision with symbolism, allegory and meaning, amassed from her extensive travels.

After studying painting with Josef Albers at Yale University, Hicks won a Fulbright scholarship to continue her studies in Chile, where she became fascinated by pre-Colombian textiles. Her experiences here sparked a lifelong interest in, and mastery of, indigenous weaving practices. She founded workshops in Mexico, Chile, and South Africa. Today, having eventually shut down these wildly successful outposts to 'avoid being distracted, and focus on the work itself', Hicks calls Paris home.

The rest of the world is never far away, however. She keeps a catalogue of mental souvenirs at the forefront of her mind, that she can pick up at any moment. 'Something in day to day life might spark a memory,' she muses, stopping to watch an electric car being refilled outside the gallery, 'which in turn might spark an idea'.

It happened that way for a new work, Shaker (2017), inspired by the hand-me-down culture prominent in 18th-century Shaker communities. The web of threaded cloth is made from shredded scraps of a old men's shirt. It trails off at the edge, like a waving sleeve. 'The shirt has turned into something new,' she says, 'with a different meaning and purpose.'
As If I Did Not Know, 2015-16
Elsewhere, cultural icons and tokens are embedded physically (as well as symbolically) into the work, in the form of found objects. Tiny golden threads woven through As If I Did Not Know, (2015-16) are actually finely sliced strips of Japanese rice paper, wound delicately with black threads of silk. A single feather is caught up in the middle, as if it flew in through the window while she was at the loom.

In person, Hicks is formidable, indefatiguable and really, really funny. 'You can't make great work sitting down,' she says, stalking around the bright gallery space, owning it, and putting finishing touches to the show.

'I like to leave clues for visitors,' she says, having directed which work should go precisely where. Like the pages of her notebook which are framed in the entrance way, offering a rare insight into the mind of the artist, by way of an introduction. 'Clues like this are especially important for exhibitions during Frieze,' Hicks explains, who is also showing work at Alison Jacques Gallery's booth at the London art fair. 'People will be dizzy. I want them to clearly understand who this artist is, and what they're about to see.'

Despite Hicks' breadcrumb trail of clues, the ferocity and complexity of the works is overwhelming. Each requires interrogation, and will keep surprising, confusing and delighting, long after you've left. It isn't until you're outside, that you realise that the first lady of weaving has tied you in knots.
INFORMATION
'Stones of Peace' is on view until 17 November. For more information, visit the Alison Jacques Gallery website
ADDRESS
Orwell House
16-18 Berners Street
London W1T 3LN
Receive our daily digest of inspiration, escapism and design stories from around the world direct to your inbox
Elly Parsons is the Digital Editor of Wallpaper*, where she oversees Wallpaper.com and its social platforms. She has been with the brand since 2015 in various roles, spending time as digital writer – specialising in art, technology and contemporary culture – and as deputy digital editor. She was shortlisted for a PPA Award in 2017, has written extensively for many publications, and has contributed to three books. She is a guest lecturer in digital journalism at Goldsmiths University, London, where she also holds a masters degree in creative writing. Now, her main areas of expertise include content strategy, audience engagement, and social media.