Screen time: digital displays bring art to your home at the touch of a button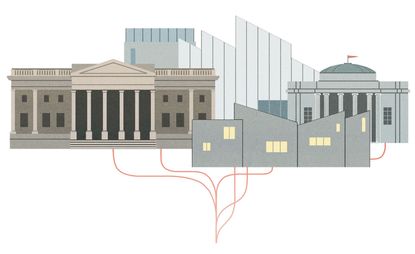 (Image credit: TBC)
Wallpaper* Newsletter
Receive our daily digest of inspiration, escapism and design stories from around the world direct to your inbox
Thank you for signing up to Wallpaper. You will receive a verification email shortly.
There was a problem. Please refresh the page and try again.
Disruption has been the buzz business idea of the last decade. Uber, Airbnb and other champions of the sharing economy are commercial wrecking balls; iTunes, Spotify and similar have upended the music industry, while YouTube and Netflix continue to move the ground under the entertainment behemoths. Up to now, though, the art market has yet to feel the full disruptive force of the digital revolution.
There have been efforts to sell immaterial art: Sedition, launched in the UK in 2011 by Harry Blain of blue-chip galleries BlainSouthern and BlainDiDonna, offers members access to a digital vault of limited-edition works from art A-listers such as Tracey Emin, Bill Viola, Michael Craig-Martin, Elmgreen & Dragset and Jenny Holzer, with prices starting from just £5. Yet digital art remains a tiny part of the total art market: according to a recent report by British insurer Hiscox and market research company ArtTactic, online art sales currently represent 2.4 per cent of the $65bn global art market. But only 0.5 per cent of those sales are for digital art, as opposed to physical art.
A wave of new launches is determined on creating a sharp upswing in the sales figures for digital art, bringing digital art into the domestic sphere with hardware-to-software-to-content propositions and a radically democratic model of art distribution and ownership.
This May, for example, a Kickstarter-funded New York outfit called Electric Objects launched a high-resolution electronic art screen, while Tokyo-based Framed, also Kickstarter-backed, is to release a similar proposition, though with added gesture controls, later this year. Meural, another New York-based operation, will launch its gesture-controlled screen this autumn, promising access to digital versions of museum-held masterpieces, an instant-access take on the gift-shop print. And in July, San Francisco start-up Depict launches its 50in, American maple-framed, matte-bordered, rotating, ultra high-definition 4K digital canvas Depict Frame (yours, with the option of professional 'white glove' installation, for $1,800), backed by the Depict Cloud app and a patent-pending digital watermarking technology.
All are hoping there's a big enough audience among the young, tech-savvy and art-hungry who are happy and willing to bring another screen into their life. The lure is a mix of new digital work by established artists, with digital versions of existing works, as well as art created specifically for these new devices by artists used to working in digital forms, including interactive images and GIFs, and keen to explore the creative possibilities, and alternative revenue streams, these new platforms present. They are chasing a chunk of what Depict is predicting, optimistically, could be a $24bn market within five years (even its 'moderate case' scenario suggests it could be worth almost $8bn). There are, though, far more cautious forecasts. Hiscox's just-released Online Art Trade Report suggests that the total market for online art, physical and digital, will only be $6.3bn by 2019.
The model here is iTunes and Spotify rather than Larry Gagosian. Depict, for instance, is offering limited-edition works for as little as $5 and there is also a $15 flat-fee subscription offering access to a curator-assembled, themed collection of 12 pieces per month.
Depict, founded by MIT-alumni Kim Gordon (not the Sonic Youth guitarist/artist) and Shambhavi Kadam, is explicit about its ambition to do for art what Apple's iTunes and iPod did for music. Following the Apple example, it won't be the first to hit the market, but it's hoping it will prove the most compelling offer. Depict insists that its 4K screen, designed by San Francisco-based Branch, and the result of consultations with museums and galleries, is best in class. (It is also, by some way, the most expensive of these new digital canvases. Screens by its three rivals all retail for less than $400).
Bruce Gibney, a venture capitalist and early investor in Paypal, Facebook and Spotify, and one of the backers of Depict, says he was convinced by the quality of the team involved and the hardware: 'It's like when you see an Apple product and you just immediately see the quality and the thoughtfulness and the attention to detail,' he says. 'And I do think you need something that is optimised to show digital art. You can't just put it on TV.'
But Gibney acknowledges that this super-duper screen will have little appeal without quality content to put on it. 'This can't be about screen savers on the wall,' he acknowledges. And Depict's curatorial director Amanda Schneider has been busy packing the Depict Cloud app with digital art that fully exploits the potential of its 4K screen (and the specifically designed firmware. Your shop-bought 4K telly couldn't handle the art in the same way).
In truth, Depict doesn't, as yet, have the sort of line-up of top-flight artists assembled by Sedition (which got to the prototype stage with its own screen and may yet launch another take on the digital canvas).
Sedition's head of programmes and operations Ashley Wong says Sedition has been in talks with both Depict and Meural about licensing arrangements for its collection. And she says it remains unclear how much these rival digital art start-ups will operate as competitive silos or open-system cooperative boosters. 'I think some of these new entrants view Sedition as competition, while others are more open to conversations,' Wong says. One thing she is clear about is that interest in online art sales and digital art has moved up a gear over the last year. 'Obviously you have Artsy and Artspace selling physical art online. Sotheby's has linked up with eBay to live-stream auctions. And you have [online auction house] Paddle8 working with Phillips and Tumblr on digital art auctions.
'Then there is a new wave of artists, like Universal Everything in London, who are used to working in digital media and using social media to promote it.'
Gordon, Schneider and Wong all agree that there are two inflows of art for these new devices. One from established artists, sometimes brokered through galleries; the other from digital art specialists working outside the traditional gallery structure and using these devices to go straight to market. Schneider says Depict is offering artists a 60 per cent cut on sales, a more generous offer than most galleries.
The British artist and filmmaker Isaac Julien has sold digital pieces, short extracts and stills from his multi-screen epics through Sedition. He admits the financial rewards have been slim, but sees the benefit in using these channels as a way of reaching a new audience. Julien is currently making films in 4K resolution and says the Depict system offers the potential for exploring and experimenting with that format, and the particular 'aesthetic experience' it offers.
On the consumer side, Gibney says another key to Depict's potential success is convenience. 'I just bought a large photographic print. I had to spend three hours at the gallery picking the one I wanted, get it framed, delivered, hung. Nobody wants to buy things like that any more.' Once your Frame is installed, you can upload new art with the stroke of a touchscreen. The new digital art devices let you circumvent the intimidation of the gallery as well as the hassle and expense.
The same, Gibney says, is true of buying and selling digital art on the secondary market. 'This makes it an inherently friendly, transparent process. You don't have to go down to some auction at Christie's. The digital watermark means there is no problem in proving provenance. It's a really simple electronic transaction.'
Gordon says so far there has been a surprising amount of interest in the Depict system from hotels and businesses, as well as established collectors of digital art, who will be able to use Frame to display their existing collection on Depict Frame screens.
But the real test is if the Frame, and its rival electronic canvases, can embed themselves in lives and homes, change behaviours and become a domestic essential, the digital equivalent of the framed print or film poster. Your art could soon be chopped and changed to suit your mood or carefully chosen to impress your guests or to match your new sofa. Which, let's face it, is largely what we want from it.


Originally printed in the June 2015 edition of Wallpaper* (W*195)
Receive our daily digest of inspiration, escapism and design stories from around the world direct to your inbox