Salvador Dalí takes us on a bacchic quest behind the cellar door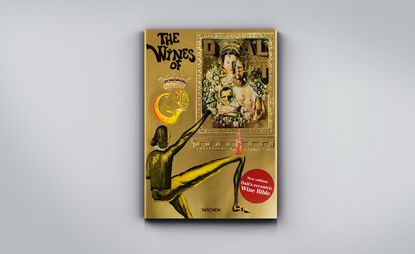 (Image credit: TBC)
Inside the golden sleeves of a new tome lies your chance to join Salvador Dalí on a viticultural voyage to the bottom of the bottle – and back again. First released in 1976 as a little-known follow-up to his cult 1973 cookbook Les Dîners de Gala, The Wines of Gala has been rebound, reworked and suitably refreshed by Taschen. It's a contemporary wine bible in waiting – albeit best read three glasses in.

An acrostic poem by Philippe de Rothschild entitled Le Cave drips down the opening pages, reading 'if it be true that "good wine needs no bush", 'tis true that a good book needs no introduction'. It's a quirky opener to this oenophile expedition into Dali's deepest eccentricities – lips loosened, it seems, by his favourite tipple.
Though it isn't written by Dalí, his illustrations provide the book's true narration. Reclining nudes (with suggestively placed vines aplenty), lay alongside reproductions of his most famous works and photographic portraits by Marc Lacroix of Dalí in his studio. A picture develops of the mustachioed Spaniard as a hedonistic worshipper of Gala (his wife and lifelong muse) – an ideal he restlessly returned to throughout the second half of his life.

Split into two halves, the first part of the book is a Dalían encyclopedia of 'the ten divine Dalí wines', penned by his longtime disciple Max Gérard. Tracing a history from Cretan mythology to contemporary reflections (and with a whole 16 pages dedicated to Châteauneuf-du-Pape), an organised, balanced chronology this is not. A Euripidean quote – 'wine invites us to the dance and makes us forget our ills' – nestles next to musings on wine as an 'amiable vice' from Aldous Huxley's Brave New World. It's an exciting, surreal mesh of global influences.

Chapter two indulges in the full-bodied storytelling of viticulturist Louis Orizet, wherein wines are categorised not by geography, vintage or grape, but by the 'deep feelings' they provoke. Filled with such edifying maxims as 'whoever has drunk wine can forgive drunkenness', and 'if you want to be healthy, you must pray to Bacchus', the enjoyment of wine is elevated to ritualistic heights.
Perhaps a rebuttal of the formulaic wine writing popular through much of the 20th century, the prose grows increasingly ecclesiastical and elastic – as if the authors are succumbing to the creative powers enlivened in them with every sip, egged on by the outlandish claims made in Dalí's work. Gérard writes early on, 'Does our world still remember how to celebrate? [...] Joy must be everywhere; but we live in a world of planning, traffic jams, technocracy and computer print outs.'

Orizet's later classifications of 'Wines of the Impossible' (in which both Greek and cooked wines sit), and 'Wines of Frivolity' (aptly home to Champagne and Blanquette) seem to be in direct conflict with the imitative modern world Gerard poo-poos in the first chapter.

From his strange life to his even stranger canvases, Dalí has long been a source of fascination. This book is as much a guidebook to his vices as it is a textbook on wine. Either way, it's bursting with flavour.
INFORMATION
The Wines of Gala, £49, published by Taschen (opens in new tab)
Elly Parsons is the Digital Editor of Wallpaper*, where she oversees Wallpaper.com and its social platforms. She has been with the brand since 2015 in various roles, spending time as digital writer – specialising in art, technology and contemporary culture – and as deputy digital editor. She was shortlisted for a PPA Award in 2017, has written extensively for many publications, and has contributed to three books. She is a guest lecturer in digital journalism at Goldsmiths University, London, where she also holds a masters degree in creative writing. Now, her main areas of expertise include content strategy, audience engagement, and social media.
You might also like
Chic peas: new art cookbook charts a history of hummus

On the Hummus Route traces a utopian track between cities, people, markets and dinner tables. It documents street food in nine Middle Eastern cities, including Cairo, Jerusalem, Gaza, Tel Aviv, Jaffa, and Damascus, and in doing so, offers a fascinating insight into the area's design, food, and culture

By Elly Parsons • Published
View More ▸