Snow storms and toppled Breuer chairs in Ryan Gander's alternate reality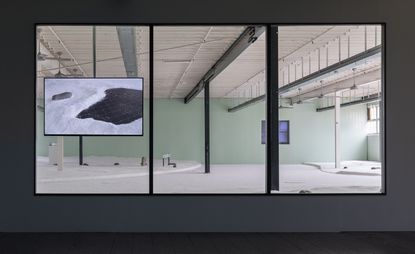 (Image credit: Silversalt Photography)
Cockatoo Island, a short ferry ride from Sydney's Circular Quay, is the least likely place one would expect to be simultaneously cast and filmed for a motion picture set predominantly in Berkeley, California. But A-frame signage dotted around the abandoned shipyard informs visitors of their every move potentially being documented.

Reading the fine print, cryptic clues allude to the playful yet complex British conceptual artist, Ryan Gander, whose newly commissioned installation, Other Places, is somewhere to be discovered. He is one of 21 artists exhibiting on the island, just one of the seven locations for the 21st Biennale of Sydney, 'Superposition: Equilibrium & Engagement', curated by Mami Kataoka.

The fictional film Time Moves Quickly is about a man's obsession with Erving Goffman, the American sociologist who analysed human interaction using analogies to the theatre. Similarly, Gander's opus is a simulated construct. Esoteric texts and objects are intentionally used to entice viewers to decipher their own narrative or explanation, often to inconclusive ends. 'Unlike entertainment, things do change in the meaning of my work. Viewers bring the other half of interpretation to it,' he says.


Isolated on a hilltop, Gander's snow-covered streetscape is trapped behind a glass wall with models of artefacts from his life and artistic practice (including an engraved tombstone for a fictional Japanese artist) rising from freshly laid artificial snow. Within the enclosed room replicated at 1:1 scale, a sign provides the first clue: Whitton Drive. Located in Chester, England, it is where the artist grew up.

Black stones circumnavigating the set recall a Zen Japanese rock garden or karesansui – a place of quiet contemplation and reflection. Gander's pristine artificial landscape evoking childhood wonder is the perfect counterbalance to the stresses of a hyperconnected existence. It too is impenetrable.
Glowing steps and a door leading to the room are blocked, while a window on the far wall displays an algorithmic view from Gander's studio depicting weather conditions. 'It represents the idea of the artist looking out the window for inspiration,' he offers, while it simultaneously acknowledges the dichotomy of his practice. His 'studio' has become the stage for his augmented realities.

Another portal into this parallel universe is the large screen located behind the glass wall. Displaying a live feed from cameras located in an adjacent viewing room, it transports viewers momentarily within, yet purposely hinders their accessibility to this reconstructed world as they cannot physically explore it.

A fragment of the setting strangely appears in the viewing room – a snow-dusted upturned Breuer chair – perhaps hinting at the dreamlike reality beyond the room. 'It's about time and space. The only thing that is truly stationary is just us,' Gander muses.
INFORMATION
The Biennale of Sydney runs until 11 June. For more information, visit the website (opens in new tab)